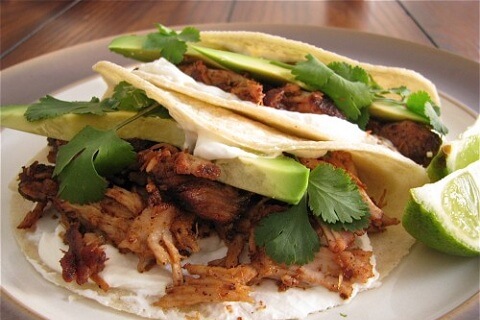 If you know me well, you know that Carnitas is one of my favorite meals to make. It's so easy, and seriously yummy! This is a year-round recipe. It's cozy and warm in the winter, but doesn't heat up your home in the summer (because it's made in the slow cooker) and goes great with cool summer drinks and fresh salsa!
Years ago, I found a recipe on allrecipes.com and was so happy with it that I never bothered to find another one. One of the reviews suggested to double the seasoning, which I have always done and I recommend it as well! Click here to see original recipe. Below, I will write the instructions with the adjustments that I made, as well as how I serve the carnitas!
This recipe cooks for about 10 hours. Typically, I make the spice rub the night before. Then, in the morning, I assemble the meat in slow cooker in less than 10 minutes by 8 or 9am! So EASY!
Step 1: Set aside these items:
1 (4 pound) boneless pork shoulder roast (I have not always used a shoulder roast. If you get a leaner type of pork, it will be tasty, but not as tender. Just make sure it's made for slow cooking, or it will be very tough!)
2 bay leaves
2 cups chicken broth (or one small can)
STEP 2: Mix together these spices (this reflects the doubled spices, so you can just follow these measurements!)
2 teaspoons salt
2 teaspoons garlic powder
2 teaspoons ground cumin
1 teaspoon crumbled dried oregano
1 teaspoon ground coriander
1/2 teaspoon ground cinnamon
STEP 3: Rub this spice mixture onto your pork. Sometimes I cut the pork into 2-4 chunks to have more surface for spice rub. In the bottom of your clean slow cooker, set down 2-3 bay leaves and place the meat on top of them. Gently pour the chicken broth, not directly onto the meat, so it doesn't wash off the spice rub. Cover and cook on low for about 10 hours. About 5 hours in, use tongs to turn the meat. There have been days where I was not home to do this, and it turned out just fine. Leave it and go about your day!!! Your home is going to smell amazing!!!
How I serve the Carnitas: I found the picture (above) online. It looks most similar to how my taco-style carnitas look. Except our meat will be much lighter in color. 
Shred the pork with two forks & mix with some of the amazing broth.
In a bowl, mix up avocado chunks, lots of cilantro, lots of lime, salt and pepper.
Lay 2-3 small warm corn tortillas on each plate (or you can use flour tortillas).
With the back of a spoon, spread a thin layer of sour cream on the tortillas.
Add some meat and the avocado mixture.
Garnish with lime slices.
Devour.
On the side, you can serve with homemade pinto beans, or chips and salsa, or corn on the cob . . . or all of the above! Drink recommendations: White wine sangria, mojitos, or Corona with lime. Enjoy!!!