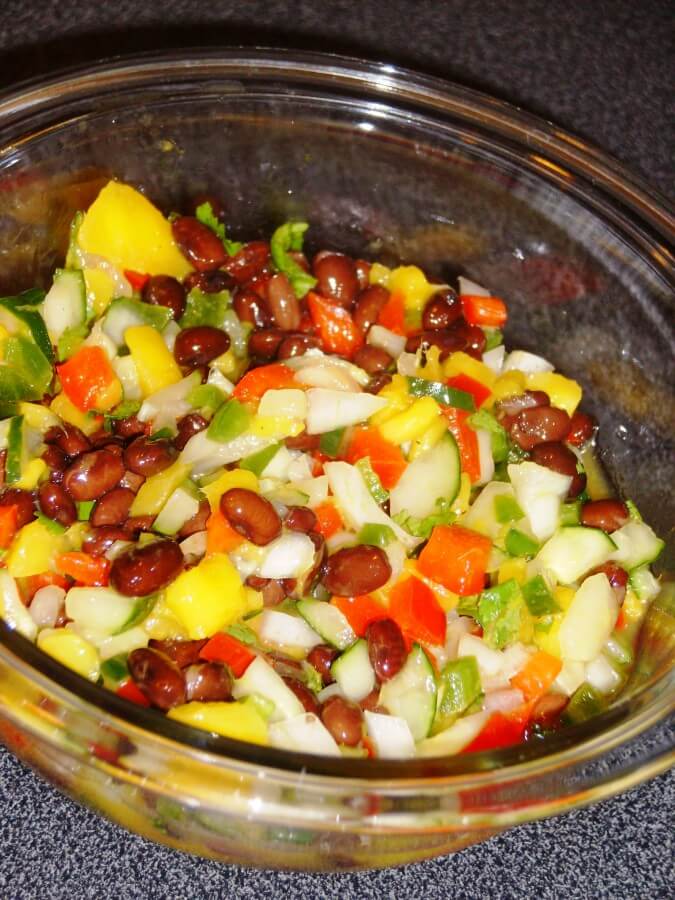 Warm weather is here, and with it comes all those delicious summertime meals! A favorite in my house is this mango salsa, which we usually put on top of fish tacos, but we love to eat it by itself with chips or tortillas too!
I'm sure I got the original inspiration from a recipe somewhere, but it's kind of morphed into my own thing over time, so I'll just tell you what I do. I couldn't find a photo online anywhere that resembled the likeness of what I make, so I just took a quick snapshot for you – clearly I'm no photographer!
Ingredients:
1 medium mango, ripe
1/4 sweet onion (I use yellow, but a lot of people like red onion in this instead. I have an allergy to red onions, so yellow or white work just fine for me)
1 small red bell pepper
1 small cucumber
1 bunch of cilantro (I just get the little package at Trader Joe's)
1 small jalapeno
1 lime
1 can black beans, rinsed (optional)
S&P to taste
Instructions:
1. Get a medium sized bowl, a large cutting board, and a good knife
2. Cut mango, onion, red bell pepper, cucumber, and jalapeno into small pieces, and mix in bowl (The jalapeno adds a tiny kick. I'm not into spicy foods – I like to actually TASTE my food – but this is easy to handle).
3. Chop up all of the cilantro and discard stems. Add to bowl.
4. Quarter your lime and squeeze all of the juices into the salsa mixture.
5. Rinse your black beans thoroughly and add to mixture. (The beans are a new addition for us, and are totally optional, but we love it.)
6. Salt and pepper to taste
7. Mix together thoroughly and enjoy!
*NOTE ABOUT HANDLING JALAPENOS* Wear gloves when handling jalapeno peppers. I use disposable latex gloves. Cut open the pepper, remove the seeds and all the junk from the inside, and then chop it up. Rinse your cutting board with soap and water, and then remove your gloves, pulling them off so they're inside out, and discard immediately. Otherwise, your hands (and anything you touch with your hands) will feel like they are on fire. Trust me.
Nutrition Facts:
Serves 8
26 calories per serving without the black beans
95 calories per serving with black beans
High in Vitamins C & A