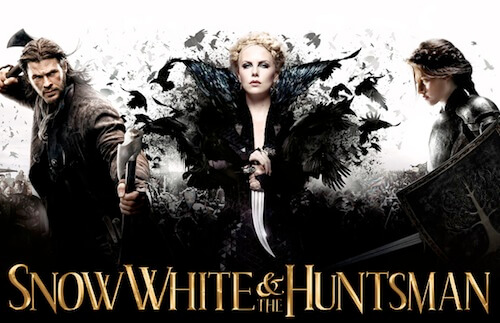 1. Theater-worthy! See it!
2. Definitely rent it.
3. Stream it on Netflix, if you must.
4. Don't even bother.
Despite having some less than stellar reviews, I really wanted to see Snow White and the Huntsman. Maybe it was the trailer that impressed me, but I was pretty committed. My husband saw it without me while I was visiting my BFF in Boston recently (with the promise he'd see it again with me upon my return), and, although he had his qualms with it, he said it was worth seeing, so we went.
It's rated PG-13 for a reason. Not sex. Not language. Thankfully. But definitely adult content, including a couple things that grossed me out. I mean, come on. The story goes that the magical evil queen hunts people's hearts. That's gross. Please don't mistake this for a Disney movie and take your young child to see it.
If you can see it in the theater, do it. Why? Because of the visuals. This film is stunningly beautiful and genuinely visually creative. I mean, there are some films out there that really strive toward visually interesting concepts, but this one seemed less contrived and more appealing than anything I've seen in a long time. I kept finding myself thinking: now that is seriously cool. The only hang up was that sometimes the visuals didn't really have any recognizable purpose, but it seemed forgivable because it was just that cool.
I enjoyed the movie from start to finish, truly. It was a unique take on the fairy tale of Snow White, and I appreciated that. But, other than some of the visuals, in the end I walked away and forgot about it almost the second I walked out of the theater. As I realized it, I thought about how when I think a movie is genuinely good, it sticks with me. I think about it. I don't want it to end. I talk about the characters later on. I look forward to the sequel.
As we drove home my husband helped me process. We agreed that we had very little attachment to any of the characters. In the end, we didn't really care who Snow White's true love was, or even that she won the fight (even though we always root for good to win). The strongest character was the evil queen, whose team you can't be on by principle, so we felt kind of stuck.
The telling of the story relied heavily on the viewer's previous knowledge of and love for the original story, which, given the fame of the story, is acceptable. But if you didn't know and love it, the apple, the dwarves, and the little critters would seem really random and thrown in there to make it feel more magical. I loved all of those elements, but I already have a history with them.
Let's talk about the acting, because I love acting, and it can make or break a movie. This movie was full of recognizable faces, which can often mean great performances. And for the most part, it did. There were lots of great actors found in the dwarves, and I really liked them, although their roles were far less significant than in the story we're most familiar with. Best actor for this movie (to me) goes, without question, to Charlize Theron. She played the evil queen, Ravenna, and she was masterful at being evil, powerful, and stunning without being overtly sensual or sexual. She also emoted her humanity well, which I found unique to this kind of character. I don't know. Maybe she was my favorite evil queen. Really well done.
Kristen Stewart. Sigh. How does she keep getting trapped in these stories where she has to choose between two men who are equally in love with her? Poor thing. 😉 If the message about being the "fairest of them all" is truly about inner beauty, then okay, great moral of the story. But I really thought Snow White was supposed to be more outwardly beautiful than the very beautiful evil queen. Am I wrong? Did I misinterpret that entirely? If not, I think they definitely cast the wrong gal for Bella – I mean – Snow White.
What does Kristen Stewart do well? Lots of things. She played a believable fighter, I thought. She brought intensity, conviction, and determination to every scene. I'm pretty sure she had tears in her eyes in over half of the movie. That's very intense. The only problem was, that was all there was. There was little to no variation in her emotion the whole movie. It's possible she may have even had the same expression on her face throughout the whole thing. At first I was impressed by her strengths. By the end, I realized her entire performance, while emotionally believable, was one note, and I couldn't connect to her character at all.
For all my gripes (do I always say this in my reviews?), I did think it was certainly worth seeing. I've already analyzed everything wrong with it for you, so now you don't have to. =) Go enjoy the visual creativity. It was worth it for me.