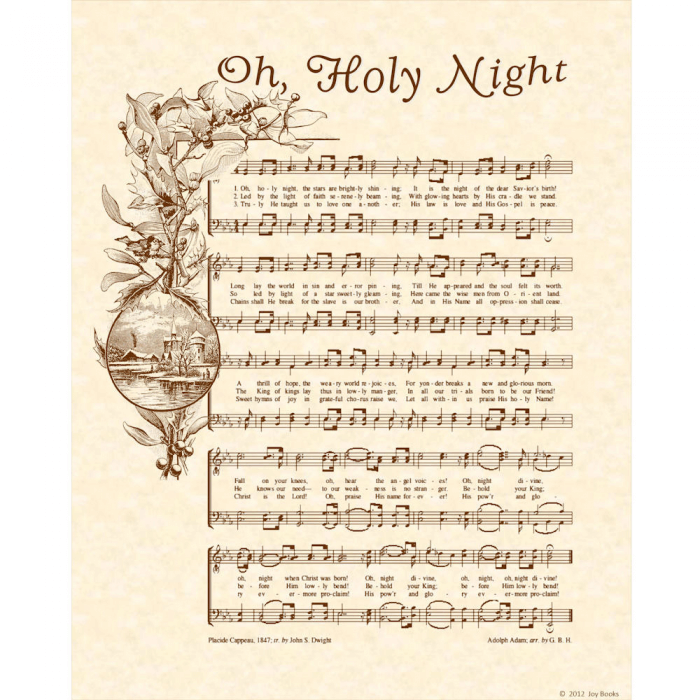 Several years ago my parents gave my husband a little treasure around Christmastime. It's a little book called Stories Behind the Best-Loved Songs of Christmas by Ace Collins. Wyley is a musician, music teacher, worship leader, and often coordinates special music for churches, particularly around holidays, so it was a very useful gift. But I felt equally blessed by it. I love history, and the story of our Lord coming to earth is perhaps my favorite bit of history. I also love music, and when I sing Christmas carols, I make an effort to focus on the words and allow them to transport me to the scene they describe, and I can rarely keep my eyes dry.
In this little three-part series, I'll share what I've found in this book with you to help illuminate some of our most beloved Christmas carols, perhaps in a whole new way.
I'll start with one of my absolute favorites.
"O Holy Night"
O holy night, the stars are brightly shining;
It is the night of our dear Savior's birth!
Long lay the world in sin and error pining,
'Till he appeared and the soul felt its worth.
A thrill of hope, the weary world rejoices,
For yonder breaks a new and glorious morn.
Chorus:
Fall on your knees, O hear the angel voices!
O night divine, O night when Christ was born!
O night, O holy night, O night divine!
Led by the light of faith serenely beaming,
With glowing hearts by His cradle we stand.
So led by lgiht of a star sweetly gleaming,
Here came the wise men from Orient land.
The King of kings lay thus in lowly manger,
In all our trials born to be our friend!
Chorus
Truly He taught us to love one another;
His law is love and His gospel is peace.
Chains shall He break for the slave is our brother
And in His Name all oppression shall cease.
Sweet hymns of joy in grateful chorus raise we,
Let all within us praise His holy Name!
Chorus
This song was written by a French poet in 1847 named Placide Cappeau de Roquemaure who was not known to be a devout Catholic, but who was surprisingly asked by his parish priest to write a poem for Christmas mass. He used Luke's gospel account, and imagined himself as a witness to the birth of Christ as he wrote. He named it "Cantique de Noel", and then decided it was more than a poem, it was a song.
Adolphe Charles Adam was a Jewish friend of Cappeau's, and he was also a composer of operas and ballets, such as Giselle, and Le Coursaire. He was very well-suited to put the poem to music, despite the fact that he didn't believe a word of it, and composed the tune that we sing today.
The song was immediately loved and incorporated in many French Catholic masses, until Cappeau left the church for the socialist movement in France, and church leaders discovered that Adolphe was a Jew. As a result, the song was denounced by the church and deemed "unfit for church services because of its lack of musical taste and total absence of the spirit of religion." Despite the ban, Catholics in villages around France continued to sing it.
On the other side of the Pond, in Boston, Massachussetts, a minister named John Sullivan Dwight found the song in French and loved it because of its lyrics affirming his abolitionist stance, and translated it into English. It was then published in songbooks and magazines by the name "O Holy Night" and quickly became a favorite, parituclarly in the north during the Civil War.
On Christmas Eve in 1906, a thirty-three year old professor and former chemist for Thomas Edison named Reginald Fessenden made the song infamous for future generations. Using a new type of generator and a microphone, he did the first radio broadcast of a man's voice. He read the story of the birth of Christ, and, when he finished, he picked up his violin and played "O Holy Night". It was the first song ever on the radio.