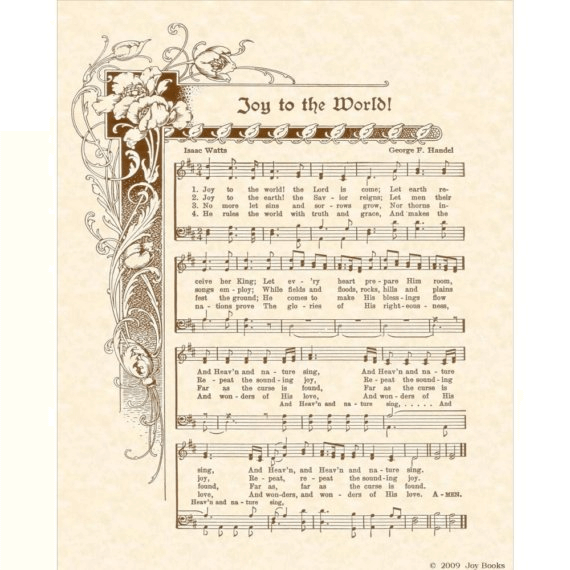 "Joy to the World"
Joy to the world! the Lord is come!
Let earth receive her King'
Let every heart prepare Him room,
And heaven and nature sing,
And heaven and nature sing,
And heaven, and heaven and nature sing.
Joy to the earth! the Savior reigns!
Let men their songs employ;
While fields and floods,
Rocks, hills and plains
Repeat the sounding joy,
Repeat the sounding joy,
Repeat, repeat the sounding joy.
No more let sins and sorrows grow,
Nor thorns infest the ground;
He comes to make His blessings flow
Far as the curse is found,
Far as the curse is found,
Far as, far as the curse is found.
He rules the world with truth and grace,
And makes the nations prove
The glories of His righteousness,
And wonders of His love,
And wonders of His love,
And wonders, wonders of His love.
When researching this song*, it surprised me (so maybe it will surprise you) that this was not actually intended to be a Christmas song! Since Christmastime is the only time I ever sang it growing up, I never really questioned what it was meant for. It doesn't actually include the gospel story, other than the phrase "the Lord is come", and so it could be argued that it's appropriate any time of the year!
In any case, it has a fascinating story behind it, of course.
"Joy to the World" was actually written by two different men, on two different continents, almost a century apart. Their common ground was in how they were revolutionaries when it came to music in the Church.
Isaac Watts, a very famous writer of hymns from the 17th and 18th centuries, was a radical in the area of sacred music. He felt it was uninteresting and uninspired, particularly to younger church-goers, and he re-wrote Psalms into songs that he felt would be more engaging to the common person. At first the Church resisted him heavily, sometimes even accusing him of being a heretic. But he persisted, and I would venture to say God was with him, as he went on to write some of the most well-known hymns of our time. He also became a famous minister in England with a large church and many followers.
"Joy to the World" was originally written while Watts was studying Psalm 98. It was a four-stanza poem, set to the melody of "Come Thou Fount of Every Blessing." But because Christians in general did not take well to his audacity to re-write the Psalms, the now famous carol was not embraced during that time.
Fastforward to the 1800's in New England and a composer named Lowell Mason. He was a gifted musician as a child, led choirs and taught singing as a teenager, and eventually studied the works of Handel as he composed new works while making a living as a banker in Georgia. Unfortunately for him, music publishers were looking for new American folk music, not more classical standards. But when the Handel and Haydn Society of Massachussetts published his songbook, he moved to Boston where he spent years composing, writing hundreds of hymns, and opened the first public school music program in Boston.
In 1836, Mason composed a piece called "Antioch", inspired by the city in which Paul began his first two missionary journeys. He felt it needed words, and three years later he found the lyrics he was looking for in a book called Modern Psalmist. It was Isaac Watts's "Joy to the World."
The song hit number five on the charts when Elsie Stevenson joined with Trinity Choir in 1911 and released the "Joy to the World" single through Victor Records. And now it's in just about every Christmas songbook and Christmas album you can find. I can hardly help humming it as I write this . . . "Let every heart prepare Him room . . ."
*Facts in this post are taken from the beloved little book called Stories Behind the Best-Loved Songs of Christmas by Ace Collins, pgs. 107-113