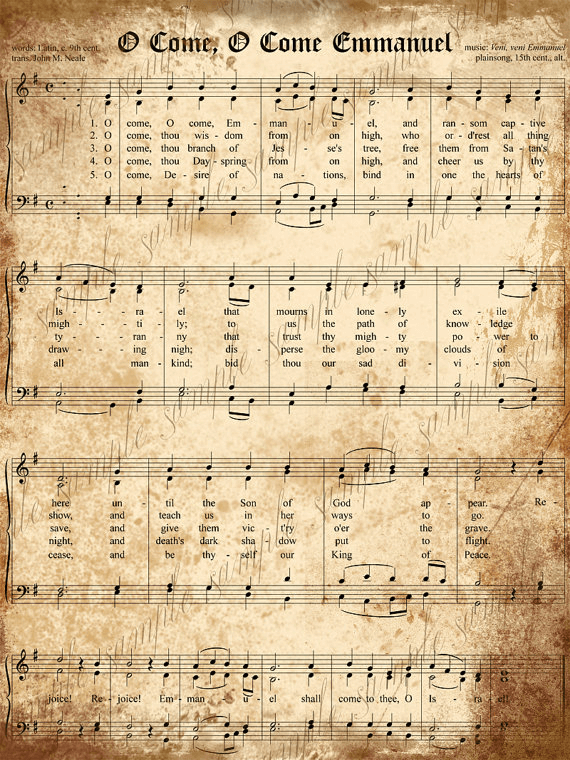 "O Come, O Come Emmanuel"
O come, o come, Emmanuel,
And ransom captive Israel,
That mourns in lonely exile here
Until the Son of God appear.
Chorus:
Rejoice! Rejoice! Emmanuel
Shall come to thee, O Israel.
O come, thou rod of Jesse, free
Thine own from Satan's tyranny;
From depths of hell they people save
And give them vict'ry o'er the grave
Chorus
O come, O Dayspring, come and cheer
Our spirits by thine advent here;
And drive away the shades of night
And pierce the clouds and bring us light.
Chorus
O come, Though Key of David, come
And open wide our heavenly home
Make safe the way that leads on high
And close the path to misery.
Chorus
O come, O come, Adonai,
Who in thy glorious majesty
From Sinai's mountain, clothes in awe,
Gavest they folk the elder law
Chorus
"O Come, O Come Emmanuel"* dates back to the ninth century, although we don't actually know who wrote it or precisely when it was written. We can speculate that it was written by a monk or priest prior to 800 A.D. and it is the oldest Christmas carol still sung today.
Originally penned in Latin, each of the seven verses were sung in churches and monasteries over one week of Advent, leading up to Christmas day. Each verse was representative of a different biblical perspective of the Messiah: why He came to the earth, who He was, and what He represented. It was extremely popular in the Medieval Ages because it was one of the few ways that a very illiterate society heard the full story of how the Old and New Testament accounts of the Messiah came together in the birth of Christ.
In 1818, a brilliant man, fluent in over twenty languages, and who was too radical for the Anglican church, was sent to the Madiera Islands off the coast of Africa to keep him quiet and let him do the work of God there. His name was Mason Neale. He set up an orphanage, a girls' school, and a refuge for prostitutes. He also found the Latin chant called "O Come, O Come Emmanuel" in a little book during his hours and hours of studies, and translated it into English. The tune that went with this translation had been used with it for years. It was called "Veni Emmanuel" and it originated in the fifteenth century from French Franciscan nuns living in Portugal.
The English translation along with the "Veni Emmanuel" melody was first published together in 1850 in England. It was cut down to five verses and spread quickly in popularity over Europe and America. But much of the meaning of the song seemed to be lost over the years. Since the richness of lyrics were the primary interest of the author and translator, it seems only fitting that we strive to understand the depth of the meaning behind the words.
Isaiah 7:14 and Matthew 1:23 set the stage for the first verse of the song. With Israel as the symbol for the Christian world which has been held captive by sin, Emmanuel is introduced: "God with us".
Isaiah 11 is where "O come, thou rod of Jesse, free" comes from. The rod is a representation of Christ, who alone can conquer Satan and bring eternal life.
Malachi 4:2 says, "The sun of righteousness will rise with healing in its wings." This is where the concept of the morning star comes from, which is what "O come, O Dayspring, come and cheer" alludes to. This verse in the song proclaims that the Savior will bring justice, honesty and truth, and He will cast out darkness.
"O come, thou key of David" references Isaiah 22:22. It's about a newborn King who holds the key to the kingdom of God, and He provides the only way to get in.
This song, reverent and profound, eerie, ancient, and beautiful, is my favorite this year. I thank God for inspiring a theology scholar hundreds of years ago to write it, and for preserving it for us to sing today.
*Facts in this article come from a little book called Stories Behind the Best-Loved Songs of Christmas by Ace Collins, pgs. 126-131