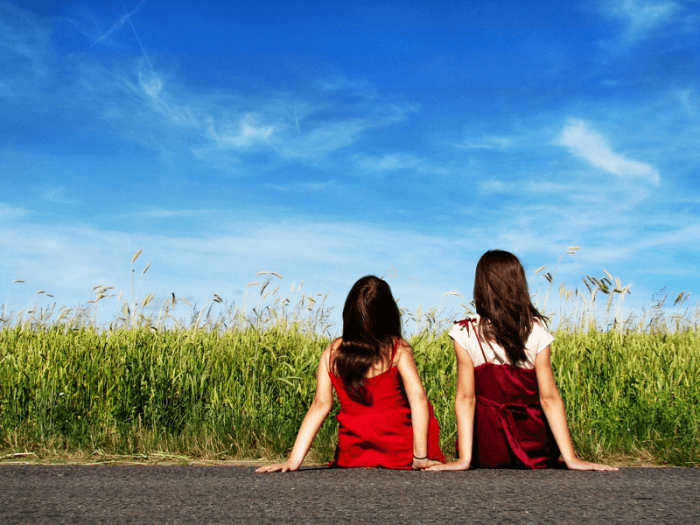 There is a little known fact about the month of February. Nestled right in there with flowers on Valentine's Day and kids drawing pictures of Abe Lincoln in honor of both President's Day and Black History Month, is National Friendship Month (not to be confused with National Women's Friendship Month which is apparently in September).
Oh yes, there is an entire month that is supposedly devoted to celebrating friendship. Friendship is important enough that, like Abe Lincoln and Rosa Parks, it merits a full month of recognition. I have a feeling that most people reading won't have a problem understanding the value of having friends. You probably have coffee dates, baby showers, walks and craft-making sessions with friends already scheduled into your calendar.
But let me cite a cliché in order to begin to express a deeper purpose to National Friendship Month. It's not about the quantity of friends, but the quality of friends that you surround yourself with. Don't stop at this point and think you already have that figured out.
I have a friend that I have known for only a couple of years, but our shared experiences have wound our hearts together in a deep and profound way. During a brief stage of life, in an attempt to show God that I meant business in what my heart desired, I decided to forego an hour of sleep in order to pray every night at a nearby 24-hour prayer room. And when I say an hour a night, I don't mean from 7 p.m.-8 p.m. The goal was much like that of fasting – to make a sacrifice. So, 1 a.m., after I had already snuggled into my bed and started dreaming of sugar plums, was the time I selected. Or so that was my plan. The execution thereof would demonstrate I was no saint. But I told my friend about my intentions and she said she would join me.
My inspiration quickly wore off. One in the morning would come around and I would silence my alarm and pull my blankets even tighter around me. But then my door would open, and my friend, who lived down the hall, would quietly creep in and say my name until I woke up and attempt to coax me out of bed. The first few mornings would bring about a string of apologies as the previous night usually consisted of me telling her to go away, that I didn't feel well, or that I just didn't want to go.
But she would always come back. She would come in to my room and remind me of my commitment. She would endure my excruciating stubbornness and wait patiently until my conviction would finally settle in and I would grumpily slink out of bed and out the door to the prayer room.
In her, and through this experience, I finally found the picture of accountability and loyalty I had heard about and longed for. She wasn't just a fair-weather friend. She wasn't just a person who would affirm my dreams and aspirations over coffee and go about her business when we parted ways. She was committed to helping me live up to my word, to grow and change. It wasn't a one-sided relationship. I learned how to listen to her, to both encourage and challenge her in her own ambitions.  There was mutual edification as we openly acknowledged each others' strengths and weaknesses and sought to be genuine friends.
Unless we have become taciturn hermits, friendship is a part of all of our lives. Some friends are only there for a season. They come and go as life moves on. Some friends are closer than others.
But friendship is more than just taking pictures and posting them on Facebook. Friends are meant to mean more than someone to vent to over tea or to have a good time with. Those things are certainly a part of a friendship, but there is something so fulfilling about having a deep friendship with someone. There is something liberating about being completely transparent with a friend. There is something transforming about having a friend who is willing to challenge us as we learn to be teachable. And there is something challenging and humbling about learning to give and to be that mutually encouraging and challenging friend to another.
I am reminded of Jesus and His interaction with the disciples in the Garden of Gethsemane right before He was about to go save the world. He was the friend who, even in the mist of his own anguish, still loved His friends and sought to help them learn and walk in the ways of the Father. He continuously challenged them to crucify their flesh and remain in prayer, although the flesh might be weak.
This is the kind of friendship I think of when I think of National Friendship Month. These are the relationships that I value and want to celebrate. People like this friend of mine are the people we ought to celebrate the most this month. And if we don't have friends like this, perhaps this month ought to be the inspiration to go get some, or at least one.
A challenge to action this month: contemplate the friends with whom you have deep relationships. Write them a note. Send the far-away ones a care package. Light a candle for them in prayer. Remember them, love them and celebrate them.