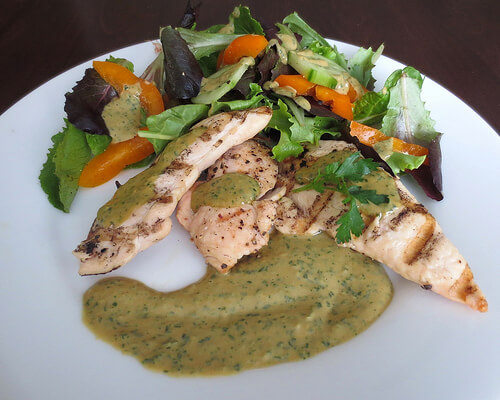 So I admit I've been holding out on you all. The first time I made this sauce, I was stunned. Was it really THAT good? Or was I just pregnant and everything tasted good? Then I made it for guests and they were having thirds. No, not of dinner, of JUST THE SAUCE. My sister was dipping her fork in it and licking it like lollypop.
Our palates first laid eyes taste buds on it just before we moved from Portland. Our treasured friends, Wes and Jess, had us over for a "last meal" of sorts. We ate out on their patio while dipping veggies and chicken into this sauce. Neither Chris nor I could believe how yummy it was. I mean, we were warned that we would want more after scooping a conservative amount onto our plates, but really? I needed a bowl?!
Peanut Satay Sauce
6 garlic cloves, peeled
2 inches fresh ginger, peeled and chopped
1 large bunch cilantro, slightly chopped
1 Tbsp extra virgin olive oil
3/4 cup natural peanut butter
1/2 cup minus 2 Tbsp soy sauce (or tamari, I've used fish sauce in the mix as well). Odd measurement, but do it!
3 Tbsp rice vinegar
1/2 to 1 cup canned coconut milk (to your taste preference)
For step-by-step directions and mouth-watering pictures, please visit: The Joyful Table