A repost from The Joyful Table, by contributor Noelle Ritter.
Hi there, crazy mom here! We have been enjoying summer and enjoying our family! I've been a bit busy chasing after my running toddler. He is now saying "trash," puts silverware away in random drawers, enjoys when I set off any alarm in the kitchen, and tries desperately to "help" touching the tongs to every surface he can reach. I guess this is a good sign that Colton is enjoying the cooking process. I cannot wait till he can clean too!
We are huge sweet potato fans in my house. They are ridiculously nutritious, beautiful and SO versatile. This recipe was adapted from halfbakedharvest.com as I modified the chili in adobo, and bumped up the greens content. Stuffed skins are a great way to impress with leftovers. Leftover greens, roasted chicken from last night, that last bit of cheese in the fridge. The options are endless.
Sweet Potato Skins Stuffed  with 
Adobo Chicken, Spinach and White Cheddar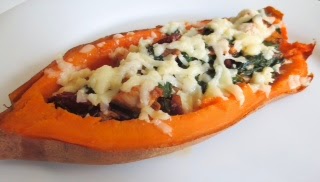 3 large sweet potatoes
about 1-1/2 cup chopped cooked chicken
1/4 cup olive oil
2 cloves garlic minced
1 whole canned chipotle pepper, minced, with 1 tbls of sauce
1 tsp dried oregano
1 tsp cumin
2 tsp chile powder
1/2 tsp salt
1/4 tsp pepper
3 cups fresh spinach, wilted
5 oz sharp white cheddar cheese, grated
For step by step instructions, visit thejoyfultable.blogspot.com 
Happy Cooking!
-Noelle