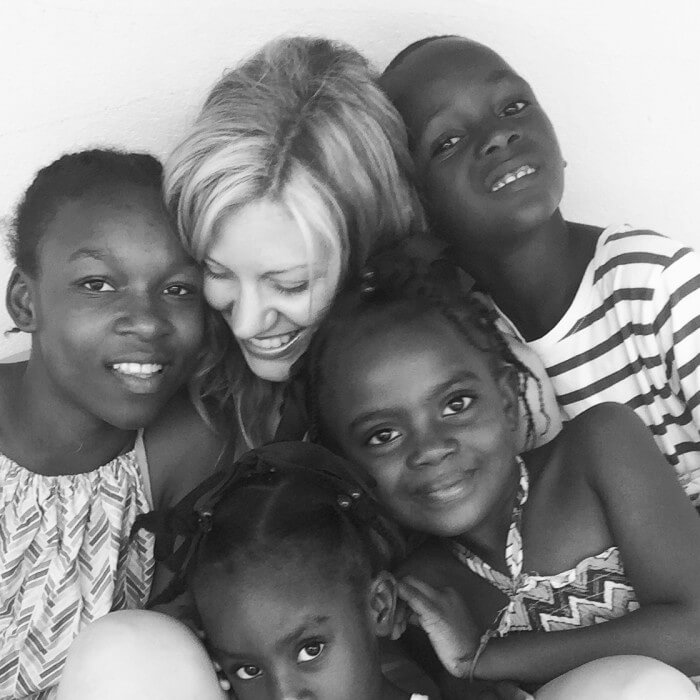 This next "trip" I have scheduled is probably long overdue. Growing up, our family did many vacations during the summer months. This oftentimes coincided with my youth group's short-term mission trips. I remember in middle school our youth pastor would organize several trips called "Destination Unknown" where you would be assigned a couple of leaders, they would cram lots of kids in a van, and you'd be off to some city (one that you no idea of ahead of time), and upon arrival would do helpful projects while forming wonderful bonds with your teammates and then return home a changed little human being (for a time) where you felt guilty for using your curling iron. Or something like that. At least that was the impression I got from friends who opted to go.
As horrible and selfish as this sounds, at the time none of those things appealed to me. I hate road trips, get terribly car sick, am often easily annoyed by people in close quarters, don't like to be out of my comfort zone, and so, quite frankly, always opted to go to Hawaii or Cabo with my family. High school and college came and went quickly, and there were a few more opportunities for mission trips but something important always seemed to collide with the dates. Marriage came, kids came, and here I am now, twenty-seven years old, having been raised in a Christian home and never once been on what most churches and Christians define as a real "mission trip".
One of our senior pastors at our home church has always tried to nudge me along to come with him on a trip. Trips would come up, I would ponder it for a minute, then find a reason I couldn't go. Trip after trip came and went, but he still continued to invite me and even challenge me to come. One afternoon I found myself in his office and he was telling me about a hand picked team that was leaving for Haiti the next month. For some reason I just knew I was going to be on this particular trip. You know when you just know things? I looked at him, heart stirred and incredibly eager, and said "H ey man can I come too? For real this time."  Knowing full well that it was a construction team (of which I have no background or skills in) our pastor looked at me and said, "I'll tell you what Sheena. Go home, look up the flight and if there are any seats left still  available, you can come with us." 
I went home, looked up the flight (there were six seats left), plugged in all of my information and was about to press purchase when my husband reminded me that I had a $200 credit with that particular airline. Score. Out of all the airlines out there, the group's flight happened to be on the one airline that I had a credit with. Amazing.
So this month, I will be traveling to one of the poorest countries in the world: Haiti. It is filled with devastation, starvation, and as a result, home to many violent crimes of armed robberies, kidnapping, rape and homicide. (Guilty admission #1: when I first discovered this I thought "Great. This blonde girl will certainly not make it home alive." Guilty admission #2: I seriously suggested to my husband that he up the life insurance policy prior to my departure). These discoveries came after I had already booked my flight thankfully, otherwise it might have deterred me. And after a brief moment of anxiety, I quickly settled back into that initial peace. If I die, I die. If I'm kidnapped, I'm kidnapped. Whatever. I am going on this trip, Lord willing, and I am very thankful.
When we purchased our tickets to a neighboring Caribbean island this past summer, we got a great deal of $700 round trip per person leaving out of California. Now this trip to Haiti, round trip flights out of San Francisco were an unbelievable $473 (including taxes). Then deducting the $200 airfare credit just blew me away. (I may or may not have broken down on the phone when the JetBlue manager applied the credit.) I am overwhelmed by God's goodness to me so often.
I'd like to think that I am a woman who is very conscious of the world we live in. Even though I have never been on a "mission trip", I often recognize that I really do live in a nice little bubble in a safe city in America. I have friends and missionaries all over the world, in very remote and dangerous places, and staying in touch with them keeps me keenly aware of this incredibly privileged life I have over here. But I also know that knowing and experiencing are two very different things.
Am I ecstatic about stepping out of my comfort zone? Not really. Am I happy that I am becoming a woman who will do it anyway? Yes. I believe we could all use a good dose of reality of the world we live in. Not just from the news or in a book, but right in front of our eyes, when the opportunity affords itself. And while I love traveling the world and seeing new places, relaxing getaways with my hubby, family vacations and historical European destinations, I know this trip will touch a deeper part of my soul. It will require me to deny myself; deny myself sleep, good coffee, a cozy bed, comfortable temperatures, and probably countless other things that I'm not even aware of yet, all so that I can serve and love other people. Don't get me wrong, I try to do that here in my own surroundings. But this will be on a different level I'm sure, without all my nice comforts.
We arrive in the country on my 28th birthday and I thank God for the gift of growing and stretching me, so that I may, hopefully, look and love more like He does.
gorgeous photos via Sheena (article written previous to trip and published after)