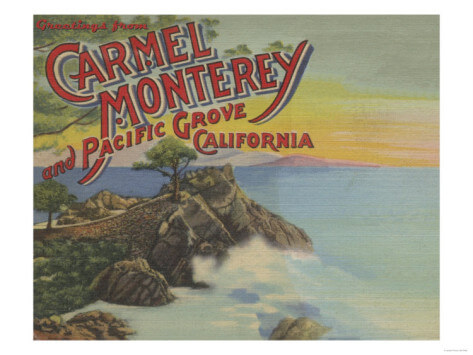 Editor's Note: I thought it fitting for our first recipe post, during the mid-winter time, to be something warm, hearty and delicious! With that said, I would like to introduce my dear friend, Noelle. She grew up in Pacific Grove, CA, where she was surrounded by amazing sea food and clam chowder! Shortly after she and her husband moved to Portland, Oregon, Noelle started a food blog, called Portland Palates . She is so good at blogging and gives step by step instructions (with photos). Noelle recently made her 100th post! This post is particularly special because it is the food of her hometown… Monterey Clam Chowder! Below is a portion of her 100th post. To get the full recipe, you can click on the link below. Enjoy!
Everyone who grew up on the Monterey Peninsula knows about Old Fisherman's Wharf and it's clam chowder debate. I don't think there's much debate really. You should visit for yourself and decide for free! After about 11am nearly a dozen of the restaurants on the Wharf post their staff outside (giving out samples) with a large pot of "their chowder" enticing you in. It's practically lunch to try them all.
It didn't always used to be this way.

Old Fisherman's Grotto used to be the only one. You know the one. Right past the candy store on the left hand side. It was my favorite part as a kid. First, there was the dancing monkey and his owner that never seemed to age. Immortal entertainment. Then as you entered the Wharf, you could smell the taffy and fudge. EVERY kid went in. And EVERY kid wanted to work there when they grew up. Then, right when you thought you'd had enough sweets there was Old Man Grotto… or one of the workers, pouring you a sampling of chowder in a styrofoam cup. It was perfectly hot, smoky, clammy, not too many potatoes, just salty enough. I remember trying to get my tongue to the very bottom of the cup, desperately getting every last drop. I learned that if I chewed off the top part of the cup (making it smaller) I could actually reach it.
It's still no contest. They make the best. Hands down.
And guess what? I found the acclaimed recipe. I just had to try it to see if it's what I knew as the best…
CLICK HERE for full Clam Chowder recipe!