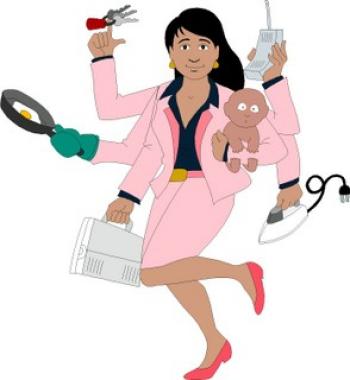 Last week, several friends forwarded me Anne-Marie Slaughter's article from The Atlantic, titled "Why Women Still Can't Have it All."  (I'm guessing that many of you had similar experiences.) In this heartfelt and thoughtful article, Slaughter details her decision to leave a high-level State Department job in order to spend more time with her adolescent sons (and to return to her full-time job teaching at Princeton University). She goes on to confess that she and other women of her generation have perhaps been too glib in telling younger women that they can "have it all": a successful career and a satisfying family life. At this point, I started getting hopeful that maybe we were in for a truly honest, realistic assessment of what it's like to be a woman in America today.
But then Slaughter laid out her thesis: "I still strongly believe that women can 'have it all' (and that men can too). I believe that we can 'have it all at the same time.' But not today, not with the way America's economy and society are currently structured."
The rest of the lengthy article focuses on the various social and economic factors that Slaughter believes need to change before America's women really can "have it all."
I read Anne-Marie Slaughter's article in the same way that I read other articles on this same topic: reluctantly, not because I wanted to, but because, as a woman, I felt like I should. After reading it, I felt impossibly old and tired, with a heavy gray cloud of "There is nothing new under the sun" hanging over my head.
Slaughter's article revisits an argument that's been ongoing for at least half a century. I believe many people would pinpoint as its origin the 1963 publication of Betty Friedan's book The Feminist Mystique (which I have also read), in which Friedan revealed the unhappiness of many traditional American housewives and encouraged women to look for fulfillment beyond the home front. This touched off what's become known as "The Mommy Wars," with working mothers pitted against stay-at-home mothers, each side vying for recognition and respect.
Given the amount of attention it's already garnered, Slaughter's article may signal that we're about to have another surge in The Mommy Wars. As I recall, the last surge happened around 2005, when I was still childless. That year, Linda Hirshman published an article in The American Prospect lamenting the fact that many well-off, well-educated women were choosing to forego careers and stay home with their children. Her article and subsequent appearance on Good Morning America caused each side in The Mommy Wars to dig themselves deeper into their trenches.
Because I feel old and tired when it comes to this topic, and because all I've seen result from these discussions is vitriol, and because I feel secure in my own choices and don't want to be perceived as telling anybody else what choices they should make, I really don't want to write this.
So why am I writing this? I'm writing because writing is usually how I do my best thinking, and I feel like I need to sort out my thoughts on this topic, because this resurgence of The Mommy Wars dialogue has left me . . . confused. Maybe you are, too? Maybe we can think this through together?
Here's where I'm coming from:
I worked for nearly a decade prior to the birth of our first child, and I continued working part-time for three years afterward. This was made possible largely by a fairytale-like situation in which we had retired grandparents within easy driving distance, who cared for our daughters while I worked. I stopped working when our third child was born, because by then we were preparing for a cross-country move for my husband's job. A year into that move, I'm still at home full-time. We have three children under the age of five, my husband has an academic job that requires him to make tenure in order to be assured employment, and there are no grandparents in sight; this didn't seem like my season to be working outside the home, and I had the luxury to make that decision.
Do I love being at home full-time with my children? Most days; like any vocation — even one you love — there are ups and downs.  But I'd take this time with my children over a high-powered career track any day.
Do I sometimes worry that I'm squandering a $200,000 education? Definitely.
Do I plan to re-enter the workforce? Tricky question: I certainly believe it's important to have outlets other than parenting — like writing this. And as my children get older, I plan to tap into more of these outlets. Whether that looks like a full-time job, a part-time job, volunteering, creative endeavors, or some combination thereof, I just don't know.
Did I make the right choice? Absolutely. This was the right choice for me, and for our family, at this particular time. No regrets.
So, that's me. Nice to meet you.
Now, here's why I'm confused:
1. I feel like the bar keeps getting raised when it comes to what's expected of American women today.
As far as I understand it, the original goal of feminism was to give women equal opportunity to make life choices. No longer is it taken for granted that women should get married and stay home with the kids right after high school; now women can get as many graduate degrees as they want, they can work full-time, they can work part-time, and they can choose whether or not to be mothers. For the record, I think that's all a very good thing. Most women I know have cobbled together some kind of life that works for them, some manageable balance of family and vocation. It may be that I don't know a very representative sample of women, but those I do know have been free to make choices about education, work, and motherhood.
But when I read articles like Slaughter's, or books like Elisabeth Badinter's The Conflict: How Modern Motherhood Undermines the Status of Women (which made the rounds on my email earlier this year), or interviews with Facebook CEO Sheryl Sandberg, they appear to be saying that it's no longer sufficient for women to be free to make choices about education, work, and family. No, these women all seem disappointed that more females aren't represented at the VERY HIGHEST LEVELS of their professions.
Don't get me wrong: I'm all for powerful female role models. And I completely agree with Anne-Marie Slaughter that society and the economy should adjust as much as possible so that women (and men) can continue to advance in their careers and also have time for a family life. But I don't understand why it's suddenly not enough to be a working woman, or a working mother, and to have the freedom to make those choices; the implication is that unless you're CEO, or President, or Prime Minister, feminism has failed.
Anne-Marie Slaughter apparently felt like a failure (or was made to feel like a failure by other women) for choosing to leave a high-level government job — a job that required her to travel from New Jersey to Washington, D.C. for most of each week — in favor of a slightly less high-level job teaching at Princeton University. I happen to be married to a professor, and while it's true that the academic world does provide some greater flexibility than many other professions, it's not a slacker job. Especially not for the seven years when you're trying to make tenure. My husband works from 8-6 (yes, even during the summer), and then continues to work from home on nights and weekends. He travels to other countries for research, and to conferences to present his research. To suggest that Anne-Marie Slaughter is somehow not living up to her full potential by holding down this type of job while also parenting two teenage sons is simply ludicrous.
Why are we women doing this to ourselves?
2. What's up with this idea of "Having it all?"
I'm honestly not quite sure what Slaughter and other women mean when they refer to "having it all." Slaughter never exactly defines this phrase, but her goal seems to be some sort of ideal work-life balance: workplaces in which women are able to ascend the ranks as readily as men, while also having the flexibility to be available for their children whenever needed.
It sounds wonderful, but like most ideals, I don't think that this situation exists or ever will. Note that, when I said that most women I know have cobbled together some sort of manageable work-family balance, I never said ideal; most women I know also wish they could spend more time with their kids, or more time working on their careers, or both. But it's not society and the economy that are to blame; it's that life requires making choices. Back to the choices again! If feminism gave women equal freedom to make choices, that still means we have to choose. Choosing involves many factors, including number and age of children, career goals, and income requirements. And when we choose, we are necessarily selecting one thing over or instead of another, or prioritizing in a certain order.
A friend of mine used to quote her grandmother, who said: "Somebody has to watch the kids." I've come to realize in a deeper way how true that is since becoming a mother, and how important a guide it is for my decisions. The kids can't take care of themselves: somebody has to watch the kids. It's impossible to have a full-time career and be a full-time mother simultaneously; no matter how amazing you are at multitasking, everyone only has 24 hours in each day. So we all make choices, about when to work and when to be with the kids and who's going to watch the kids.
To me, that seems like common sense; that's just life. It's true for all women, and it's true for all men, too. My husband certainly doesn't "have it all." He made a choice to work full-time, so he misses things like check-ups and preschool conferences and fun activities. There's no job flexible enough to allow him to be present for every important moment of our children's lives.
When these intelligent, accomplished, amazing women start talking about "having it all," they remind me of my preschool-aged daughters, who spend all day piling on the demands: "Fix my ponytail!" "I need some milk!" "Can you read me this book?" I walk around all day long repeating this refrain: "One thing at a time. I'm only one person. I can't do everything all at once."
My daughters are two and four, so they don't yet understand that one person can't do it all, be it all, have it all. Why are brilliant grown women still having trouble with this concept?
The worst thing about The Mommy Wars is that it pits women against each other. I'm even uncomfortable with the amount of critique I've given to Anne-Marie Slaughter and her cohorts in the above paragraphs, because I passionately believe we women need to stand together and support each other. Motherhood is hard, work is hard, choices are hard, LIFE is hard. We all make choices, and we have to live with all the blessings and consequences of those choices. When external circumstances, like inflexible hours or unrealistic performance expectations, interfere with our ability to make good choices, by all means let's band together to change things.
But please, let's not hurt each other with the expectation that all women should choose to ascend to the highest levels of their professions, or by throwing around vague and unrealistic concepts like "having it all."
Instead, let's applaud the women (and men) who achieve great success in their fields, and let's make sure that it's possible for other women to choose to follow them. Let's also applaud the women (and men) who choose to "watch the kids," and affirm the invaluable and essential nature of their work. Let's be grateful for the freedom we have to make a full range of choices about motherhood and career. But let's be grown-up and acknowledge that great success in any area will almost certainly require sacrifice in other areas.
Finally, let's admit that the real enemy on both sides of The Mommy Wars isn't working mothers, or stay-at-home mothers, or society, or the economy: it's guilt. Guilt that, deep down, we all know that it's impossible to "have it all." And that neither dedicated motherhood, nor great career achievement, will ever really be enough to satisfy our hearts' deepest needs. A little less guilt, a little more grace for ourselves and others, and maybe we won't have to keep reading (and writing) these articles.