"The second day of July, 1776, will be the most memorable epoch in the history of America. I am apt to believe that it will be celebrated by succeeding generations as the great anniversary festival. It ought to be commemorated as the day of deliverance, by solemn acts of devotion to God Almighty. It ought to be solemnized with pomp and parade, with shows, games, sports, guns, bells, bonfires, and illuminations, from one end of this continent to the other, from this time forward forever more." – John Adams, in a letter to his wife Abigail on July 3, 1777
What a prophecy! So, yeah . . . we actually celebrate on the 4th (the date stamped on the Declaration of Independence), but we do celebrate what the 2nd stands for: the day the thirteen colonies were given their independence from England! I don't claim to be a history buff, but I'm a history lover! So, I get goosies easily when I read things like this from our Founding Fathers, and when I visit all of the historical sites in Boston!
So, why is it so great to be in Boston on the 4th!? Because it all happened here! Here are some fun things to see and do if you're ever here in Boston on the 4th!
1) Explore the Freedom Trail! The Freedom Trail goes throughout the city of Boston and lands at many historical sites, such as:
The USS Constitution, also known as The Old Ironsides. To this day, she still  sails! The original and beautiful piece of history lives at the Charlestown Navy Yard. Once a year, on the 4th, she is sailed out into the ocean (just for a little spin to Castle Island and back). When The Old Ironsides returns, she is parked the opposite direction for the remainder of the year to ensure even wear. It really is a beautiful sight!
The Paul Revere house. He played a significant part in fighting for our freedom! His home is located in Boston's North End (the bricky part of the buildings show in the above picture). While you're in the North End, you must also see the Old North Church, where Paul Revere hung the lanterns ("one if by land, two if by sea").
While you're on the Freedom Trail visit the Old State House! Bostonians first heard the reading of the Declaration of Independence from its balcony! Not only is it a beautifully preserved landmark, but it is a fantastic museum as well.
There are too many amazing places to visit on the Freedom Trail!
2) Boston Tea Party Ships & Museum. After an unfortunate fire, this museum burned down years ago and finally reopened about a week ago! So, I haven't even had a chance to visit yet. But how could you go wrong!?
3) Museum of Fine Arts, Art of the Americas (new wing). The MFA plans to keep this wing until 2016, so you have plenty of time to come see it! Read more about it here.
4) If you haven't noticed, I'm a John Adams fan! He played such an important part in our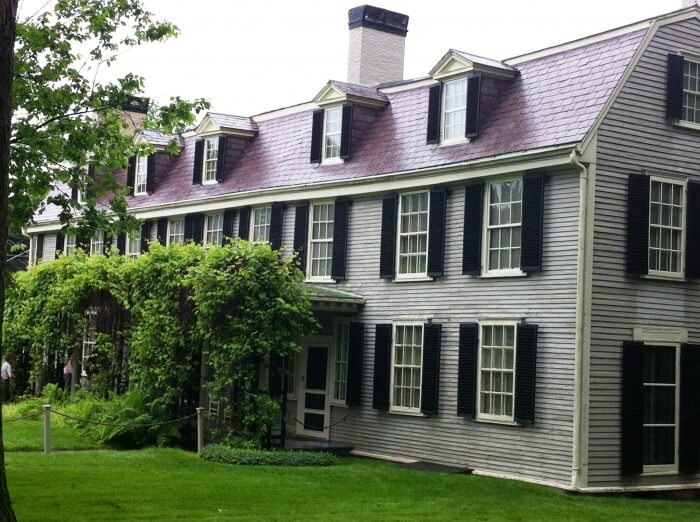 gaining independence. He was a man of great integrity and a man of faith in God. Recently, I visited John Adams' homes in Qunicy, MA and my expectations were exceeded greatly! Here is a link to the Adams National Historical Park. The museums contained original presidential artwork, John Adams library, his infamous letters to his wife, the list goes on! (His home, Peacefield, is pictured to the right. And I "stole" this picture from Lyndsay's review on the John Adams mini-series).
5) See Fireworks!! As an adult, I was never impressed with fireworks until I moved to Boston! The Boston Pops (summer program for the Boston Symphony Orchestra) sets up a massive production in the Hatch Shell (outdoor amphitheater) on the Charles River. Fireworks are shot off from a barge floating in the river. It's actually a very beautiful show. But keep in mind . . . the crowds are thick! Also, be aware that most restaurants close before dinner. But I happen to know from experience that Cheers is open for dinner!
Happy Independence Day!!
Photo Credit 1, Photo Credit 2, Photo Credit 3, Picture 4 by OTW editor, Lyndsay Wilkin.