Surprising confession from OTW's resident foodie: "I can actually write about things other than food!" But truthfully, she can't help herself but work edible items into her philosophy. . . Bon Appetit!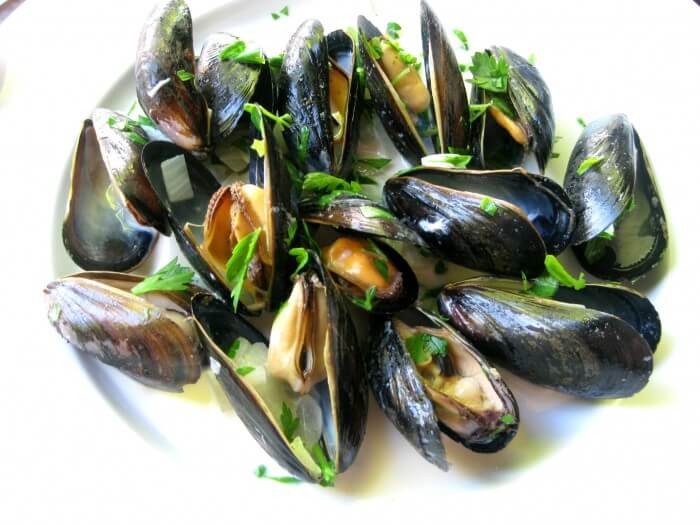 I didn't think I liked mussels. I assumed that because they looked slimy and because I played with them as a child when building sand castles that they didn't belong on my plate. But discovering a recent love for the creation of food and cooking has pushed me outside "my shell". I discovered I loved mussels after all. What had I been telling myself all these year? So yummy. Especially steamed in beer. Well, I like anything with beer, but let me explain my recent 'ponderings'. Then, I'll give you the recipe.

We tell ourselves certain things. Just like we are conditioned by the phrases our parents and teachers repeat to us. If there's anyone we believe day to day, it's ourselves.
You see, I'm an 'ESTJ': sanguine with cholerical tendencies. My Strengths Quest Finder reported: maximizer, harmony, focus, discpline and relater. My spiritual gifts test resulted in "encouragement," "shepherding" and "administration" (insert breath here! Whew!). I believed for a long time that these things told me who I was and therefore how I was to interact with people.
If there is one thing I have learned in the last ten years, it's that we have tendencies but God created us to keep being created. It's one of those verb things. We are BEING transformed. We are BEING renewed. We are BECOMING more like Christ.
It can be comforting to learn facts about yourself. It's empowering too, helping us communicate more effectively with others and giving definition to why we act out in certain ways. But really . . . these can become an excuse — an excuse not to learn, grow, and discover more ways to be used by God. God created you, after all. He created those personalities, qwerks and idiosyncricies. He also created you to keep being created.
What if instead of focusing on our obvious and most comfortable giftings, we prayed and looked for ways to grow anew? God really honors this if it's really a selfless heart request (i.e. not looking to get more spiritual). What if I asked God to make me a more fervant pray-er? What if I opened myself up to relationships that would require me to be more merciful? What if I attempted to relate to people completely outside of my comfort zone despite us having not much in common?
I met a sweet couple in Portland in their eighties who said that every week they purpose to "do something new."  It could be extreme like a hot air balloon ride or a trip somewhere. It could, more commonly, be something small like driving a different way to work, shopping at a different store or trying a new food.
What if we tried something new in our lives for the sake of living open handedly? What if we are so busy trying to "get ourselves right" and use our apparent gifts that we miss out on opportunities for God to transform us?  
So even if it sounded crazy before, maybe you should try mussels again. Now that you're older, more mature and all. You might actually like them. You might be missing out.

Mussels Steamed in Beer
2 lbs mussles (scrubbed and beards removed)
1 medium onion (finely chopped)
1/2 bottle of light wheat beer
1/2 cup of heavy cream
2 tbls chopped fresh parsley
1 baguette sliced and toasted for dipping
Sprinkling of Sea Salt
This recipe is great for an appitizer for 4 or a meal for 2. For more on the  embarrassingly simple steps of this incredible dish visit Noelle's new food blog  The Joyful Table