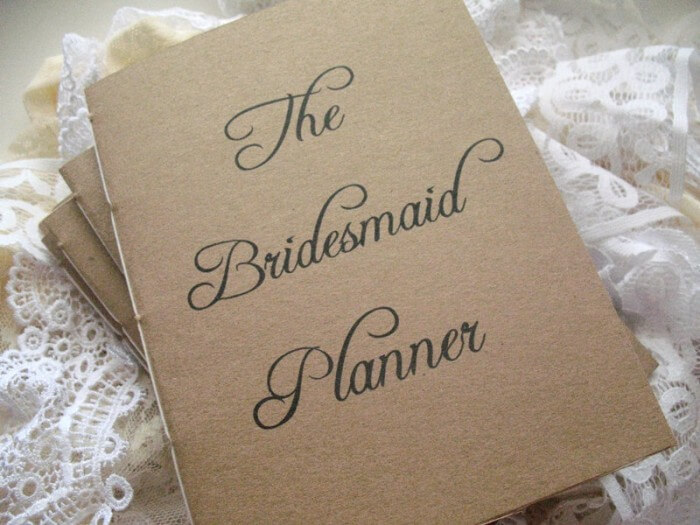 One of my best friends just got married a couple of weekends ago. Sure, I have been in both of my sisters' weddings in the past, but there is definitely something unique about sending a good friend down the aisle. Suddenly, all the bridesmaid responsibilities I had managed to evade previously caught up with me and I found myself calling my sister, by now a wedding expert, asking what in the world I should do.
Hopefully none of us will have an experience like Katherine Heigl in 27 Dresses, but chances are you too will find yourself in the position of bridesmaid or maid of honor at least once (if you haven't already). Perhaps you have never had the privilege of this before and your friends are now starting to get married, or maybe the title isn't new to you but didn't quite feel like you knew what you were doing last time around.
Being a bridesmaid or maid of honor is more than just looking pretty, but many might not know quite what to expect or what is expected of them. Here are some tips and things to take into consideration if you find yourself in the honorable place of taking part in your friend's wedding:
This event is not about you! Weddings are a great opportunity to practice the ever elusive virtue of selflessness. You may wish this wedding was your own, but it's not. You may want to unwrap all the gifts, but you'll have to wait until Christmas. Your friend's wedding is about her and the great thing happening in her life, and it is your responsibility to serve and ensure this happens as flawlessly as possible. Don't just show up and expect to look pretty . . .

you have work to do

. Be willing to put a considerable amount of time and effort into both helping the details come together and loving and supporting the bride. With that said . . . don't get offended! It's likely the bride might have a few moments that aren't her best. Shake it off, practice grace, and move on.
Don't be surprised to see a serious dent in your bank account. You might run on a tight budget, but like a lot of things that are important to us, taking your bridesmaid responsibilities seriously is going to cost you. There are of course the elements that are not entirely in your control: the dress, shoes and any required jewelry. But bridesmaids should also expect to help foot the bill for the wedding shower and bachelorette party. And although you may feel you have contributed you fair share in pre-wedding activities, these do not exempt you from buying an actual wedding gift.
Don't be a diva. This goes for both your attitude and the way you look. If you don't like your bridesmaid dress, get over it! And if you have to, pretend you and the other bridesmaids are actually friends. When it comes to hair and makeup, while you want to show the world the bride has good taste in friends by looking good, remember the bride has the spotlight. You should not look better than her/outshine her. It sounds harsh, but don't detract attention from the bride by an excessive tan, exaggerated makeup, or a hairdo that looks even closely similar to her own. In every way you present yourself, create an atmosphere that highlights and encourages the

bride

.
The toast. This is neither an opportunity to exhibit your fabulous speaking skills nor shy away in fear! Typically, it is the duty of the maid of honor and best man to give toasts on behalf of the bride and groom. But it never hurts to have something prepared, even if you are not the maid of honor, just in case an open invitation for toasts is given. This is a great opportunity for you to say something heartfelt and encouraging. It doesn't have to be elaborate or match the eloquence of presidential speech writers, but it should make the bride feel great about herself.
Know your responsibilities. If you are new to the wedding scene or just haven't figured things out for some reason, there a couple of very specific obligations (if you can really call them that, because they can actually be quite fun) that should not be overlooked. It is the duty of the maid of honor to plan the wedding shower and bachelorette party, but bridesmaids are generally expected to contribute, help, and attend. If the maid of honor is not local, it will often fall on the shoulders of the local bridesmaids to do more of the planning. Don't let these things fall through the cracks due to lack of communication. Others include sheltering the bride from mishaps and drama, and informing her of any traditions she might not be aware of but you know she might like to incorporate.
In the midst of the chaos, don't forget about God. Weddings can get crazy and stressful in trying to get the details to come together in perfection. Bring peace and focus back into the equation by setting aside some time to pray over the bride on her wedding day. Practice love by speaking words of life, encouragement and truth throughout the planning process.
If in doubt, do your research. Your role as a bridesmaid is to serve the bride and make her life easier. With that said, it is best to walk into your duties with knowledge and at least a tentative plan. To make this happen, you might need to do some of your own research to find what you need to do to meet the specific needs of your bride.