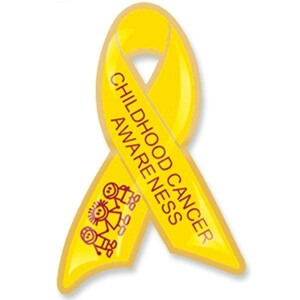 September has always been a big month for my family and me. Not only are numerous beloved extended family members celebrating their birthdays, but so are my dad, my husband, and myself, in addition to my wedding anniversary. All wonderful; all celebrations.
But now September has an additional signficance to me, because it's Blood Cancer Awareness month. It is also Childhood Cancer Awareness month.
In January of 2010 I was diagnosed with an acute form of Leukemia. I was 26 years old, and cancer was a far away concept to me until then. I posted an article about some of that experience earlier this year which you can check out here if you'd like.
Most people, I've found, don't become educated about blood cancers (or cancer in general) until it touches them personally. I don't blame them — I was in that boat too. But this month is important because the more people that get involved, the less likely it becomes that blood cancer will ever have to touch you personally.
Everyone wants a cure to every cancer, of course, but the causes of blood cancers are unknown, so they are unavoidable. Advancements in research and medical development have allowed blood cancer patients' lives to be spared in growing numbers, which I, personally, am overjoyed by. But I can't tell you how frustrating it was to sit there, hooked up to IV's pumping me full of chemo, having no idea at all how this cancer found its way into my body.
If you're new to blood cancers, the categories are:
Leukemia
Lymphoma
Myeloma
Each of these has variations that affect the blood cells in different ways. A great place to learn the basics about them is at the Leukemia & Lymphoma Society's (LLS) website.
According to the Center for Disease Control & Prevention (CDC), every year in the US over 100,000 blood cancer cases are diagnosed. Half of them get to live to tell about it. Also, among children and teens under 20 years old, Leukemia is the most common cause of cancer and the leading cause of cancer-releated death.
Blood cancers aside, according to the American Childhood Cancer Organization, 13,000 children per year nation-wide are diagnosed with cancer, and 1/4 of them do not survive it. I think you'll agree with me when I say that's way, WAY too many.
There are LOTS of ways you can get involved, so please do!
Donate to an organization like the LLS.
Join a Team in Training and help raise funds.
Walk a Light the Night fundraiser.
Host a fundraising event.
Sport a cancer awareness t-shirt.
Be a helping hand to a friend who is suffering with the disease.
Donate blood at a blood bank like Blood Source, or register to be a marrow donor should you be a match for someone.
Pray for those who suffer from these cancers and for the people who are working to find treatments and cures.
The websites I've listed above will have LOTS more specific ways to raise and spread awareness. I would encourage you to take 10 minutes and check them out this month.
Throughout the month of September, On the Willows will feature several articles from people who have been personally touched by or work with blood cancers and childhood cancers. Keep an eye out for them. We hope they inspire and motivate you to get involved.