Okay, so I'm on a bit of a kick this week: Sweet potato soup, sweet potato hash, roasted sweet potato . . . all because I bought a ton of sweet potatoes in preparation to make THIS dish.
Last Thanksgiving we were invited to our neighbor's Thanksgiving gathering. It was potluck style (food and people); every different kind of dish and walk of life . . . that's Portland for ya.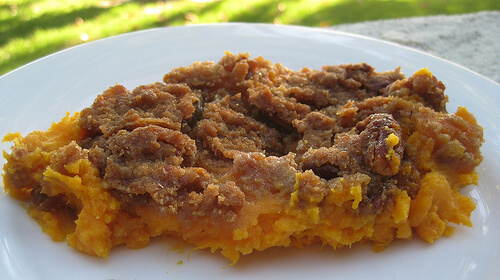 To be honest, I don't even remember what I brought, but what I do remember was this sweet potato dish. I shamelessly scraped the last of this dish when it came through the second time. If I hadn't been in the presence of strangers I might have licked it clean. Maybe I should have anyway. I sheepishly asked the hostess the next day if I could find out who made it and stalk them for the recipe. She said it was her chef brother (of course). I thought it tasted chefly.
Kristin called it Sweet Potato Casserole. I'm allergic to the word casserole. Therefore I've taken the liberty of renaming it: Sweet Potato Heavenly Bake. You could serve it as a side dish, but it's practically dessert. I might even pass on pumpkin pie for extra helpings of this goodness.
To see the actual recipe and visual instructions, click here.