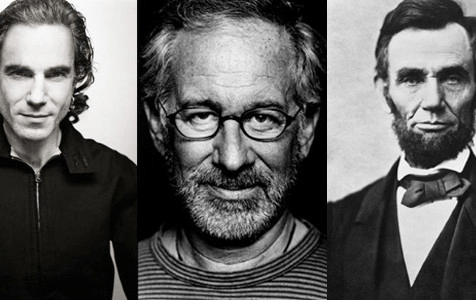 Lincoln
1. Theater-worthy! See it!
2. Definitely rent it.
3. Stream it on Netflix, if you must.
4. Don't even bother.
Oh the days when the president of the United States didn't have to have an Ivy League education and millions in the bank to get elected or to make an impact for generations to come. I absolutely loved how Lincoln showed how an informally educated (even self-taught!) man from the mid-west accomplished one of the greatest legal achievements in United States history: abolishing slavery on the federal level. It's an historic story that's worth telling and savoring over and over, and that is one of the reasons I say SEE THIS MOVIE! Whether in the theater or at home, don't miss it.
A Steven Spielberg film (pictured in the middle of the photo above), the role of President Abraham Lincoln was brilliantly acted by Daniel Day-Lewis (pictured left), and was supported by a superb all-star cast, including Sally Field playing the first lady, Tommy Lee Jones as Republican leader Thaddeus Stevens, Joseph Gordon-Levitt as Robert Lincoln, and MANY more! In my opinion, the performances by Daniel Day-Lewis and Tommy Lee Jones really set this film apart. They were both absolutely perfect. Fantastic sets, props, costumes, and makeup (I couldn't believe how incredible the makeup was on Daniel Day-Lewis!), set a very believable scene that definitely takes movie-goers into the American 19th-century political world.
Lincoln tells the story of America in the brutal midst of the Civil War, deeply divided over the issue of slavery (states held the power to keep it legal or abolish it at the time), with a president who was committed to ending the war and ending slavery — simultaneously, if possible. His cabinet was divided over which issue was most pressing, most of whom advised that ending the war was top priority over anything else. Lincoln insisted that both must be accomplished, no matter what. With such a heavy, sobering topic at the core of this story, movie-goers get frequent breaks with lots of chuckle-worthy humor, particularly from the sarcastic and outspoken party leader, Thaddeus Stevens, and of course from Abraham Lincoln himself. In a movie that's 2.5 hours, moments of humor are most definitely welcomed.
Okay, time to get down to the nitty-gritty. I call this movie "good", but not "great". Here's why: I thought parts of it were brilliant, and other parts were not so much. There were some pretty significant areas that fell short of greatness, and of course, I'll tell you what they are. I won't even touch historical accuracy, because I'm not an expert on this one, but there were moments during the movie that I actually found myself scrunching up my face and thinking "really?" I had four major scruples, to be exact. Upon discussion with my movie-going companions afterward, I discovered I wasn't the only one.
1 & 2. I'm combining the first two because they're pretty minor and probably unique to my personal perspective. First, there were some cheesy (in the overly-dramatic sense) moments that translated to me as confusing. It wasn't a cheesy movie, so those moments didn't quite fit. I don't know if it was just Spielberg's personal taste in art, but they just didn't work for me. Second, Sally Field made some acting choices that missed the mark, in my opinion. I do have multiple examples if anyone's interested, but I'll leave it at that for now and just say I didn't think her performance was particularly convincing.
3. I thought Joseph Gordon-Levitt was a great choice for Robert Lincoln, and he did a fantastic job. However, it confused me that such a big-name actor would play such a very insignificant/incomplete role. I don't want to spoil it for anyone who hasn't seen it, so I'll just say that part of the sub-plot felt a bit like it was started (on a great foot) and then almost totally forgotten about. Disappointing. My family members and I walked out saying, "what ever happened to Robert?"
4. My final critique was in how the assassination was handled. We know a lot about the actual assassination, who did it, how he did it, with what weapons, in what room, and what happened to the assassin. I realize there could be a whole movie just about the assassination, but (also risking giving away too much) this movie just about skipped right over it. It was a missed opportunity to take the audience emotionally where we needed to go. We were attached to Abraham Lincoln, but when he died prematurely, as we all knew he was going to, I for one wanted to go through the injustice a little bit and feel my love for the character sealed. Instead, it was grazed over and that was the end. I sort of couldn't believe it.
In spite of my misgivings, I still highly recommend this movie. It is an important story that should always be remembered in America, and there was enough about it that was "great" to make the time very well worth it.