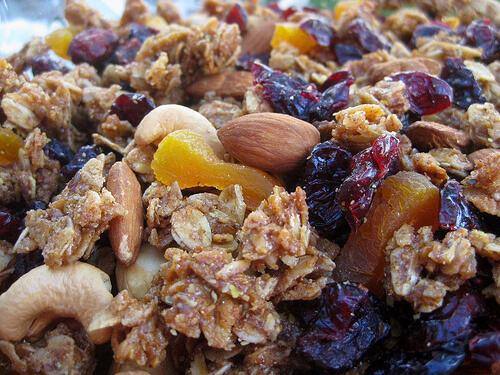 What do you think of when I say "granola?" Do you think of that Quaker Oats stuff? Do you think of a walk of life a little bit more (how should we put it?) "natural and one with the earth" than yourself?
My earliest memory was of the granola my mother would buy. I would spend precious minutes in the morning picking out the raisins from my mix. You'd think I'd just find another cereal, but I really loved the oats part. Somewhere along the way I OD'd on those little red boxes of raisins as a kid . . . and thus the scavenging to "fix" my bowl of cereal.
While working my way through my collection of books by Diane Morgan, I came across and decided to make her granola out of Gifts Cooks Love. I brought it to my classes at work as a healthy alternative to a holiday treat last year. It was more than a hit. The motto quickly became "do it for the granola!" It's amazing what a little bribery can do.
I'm using Diane's baking technique here, but omitted the coconut (not enough of my people love it) and added dried cranberries, blueberries, apricots and various nuts. Feel free to add or omit what you want. Just don't over do it on the extras; the oat part is the real star of the show. AAAAHHHHH it's so good, I can't wait any longer! I just must share it!
Might I add that this can be stored in an air tight container for a month and would make for a wonderful homemade holiday gift! I would take flax seed-laced granola over Christmas fudge any day!
For the recipe with easy step by step instructions visit The Joyful Table…
Delicious looking photo courtesy of Noelle Ritter