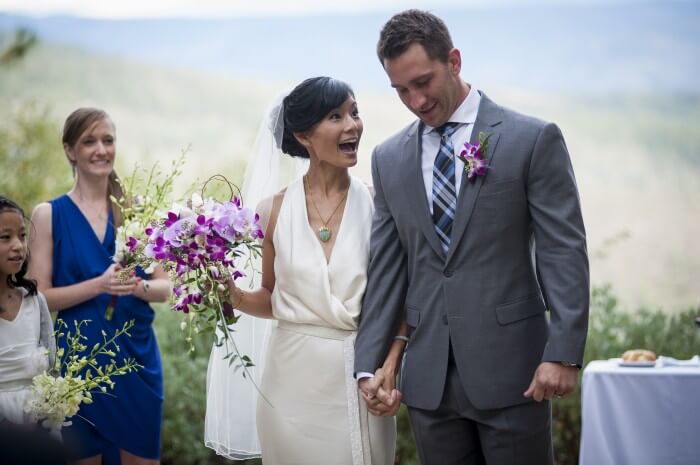 Today I reached a whole new level of intimacy with my husband.  I farted in front of him.  Of course, I've done that a thousand times, but this time he heard it.
We're still married.  He still loves me.  What's more, he still thinks I'm sexy.
There is a myriad of euphemisms for marriage—tying the knot, getting hitched, being tied down—and on some level they ring true.  Marriage is a covenant relationship—a solemn vow made before our family, our friends and before God to love and to cherish one another, as long as we both shall live.  We are committed . . . "stuck", if you will.
We've been married now for just over six weeks, so I don't pretend to have deep wisdom about marriage, and I've been trying rather unsuccessfully to explain to my friends and loved ones what it is like to be married.
Here's my newest attempt in a word: freedom.
Despite the sayings, despite the commitment, despite being "stuck", there is a freedom in marriage.  In our long six weeks of marriage, my husband and I have reached new milestones in learning about each other. He's learned that I can't drink any beverage without burping; I've learned that he talks in his sleep and grinds his teeth at night; and he's learned that my hair sheds so fast that it clogs our drain at least twice a week.  Because we're married, I'm free to be rather gross and he has to live with it.
But the freedom goes far deeper than that.  For in marriage, it is not simply that we are free to be ourselves on a base level.  (In fact, if I want to show love to my husband, I should work to clean the hair out of the drain before it gets clogged, even if I can't stop the shedding.)  It is that marriage is meant to mirror the relationship of Christ and Church—such that the same freedom you have in Christ should (ideally) be the same freedom you have with your spouse because you are likewise in a covenant relationship.
In Galatians 5, Paul writes, "It is for freedom that Christ has set us free.  Stand firm, then, and do not let yourselves be burdened again by a yoke of slavery. . . . You, my brothers and sisters, were called to be free. But do not use your freedom to indulge the flesh; rather serve one another humbly in love."
Like the freedom we have in Christ, the freedom in marriage comes from the covenant relationship. We set no expectations on each other to be perfect, we have no contractual agreement that may be terminated if the terms are not met, but rather we simply promise before God that we will love and be there for each other.  From that promise stems a freedom to be ourselves, a freedom to serve others, and empowerment from being loved.
In our marriage, we are not beholden to serve one another. No, it is that we have the privilege of choosing to serve one another daily just as our spouse has the privilege of serving us.  I would be naïve if I thought that choosing to love one's spouse daily always felt like a privilege, but having that choice is still a privilege bestowed only upon people who are made free by a covenant relationship.
This means that I'm free to enable my husband to be his best. My husband thrives on verbal encouragement, and when I tell him how proud I am of him, how blessed I am to be his wife, he feels as though he can conquer the world.  I thrive on quality time. When my husband spends time with me, I feel ready to take on any challenge that comes my way.  We are both empowered and we are both freed to be more who God created us to be.
We look forward to the process of growing in this freedom—not simply in the culture's freedom that ends in burping, farting, sweat pants and ultimately self-gratification, but we look forward to growing in a freedom that overflows and blesses our marriage, our friends, families and the world, just like Christ's love has done for us.
Photo credit: Anthony Dimaano