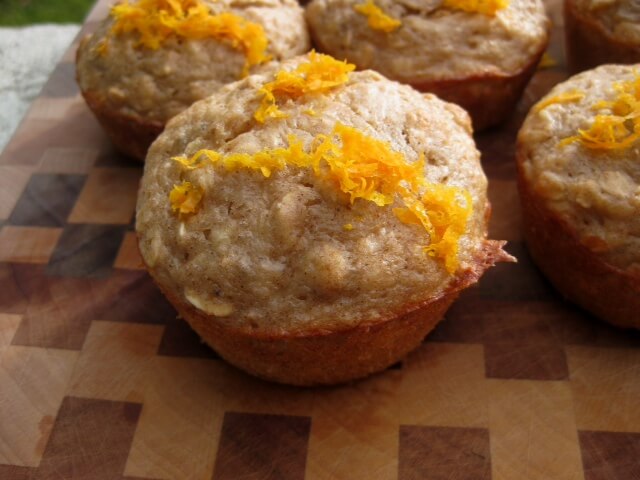 Chris and I are morning people. If you call us close friends, you most definitely know this. And now you all know! We're all besties now!
I love a tasty muffin. I love a tasty, healthy muffin even more! I found this recipe on Feed Me Seymour. She calls them Sunburst Muffins, and they really are a bit of sunshine — morning sunshine! The start-your-day-off-right kind. I loved all the breakfast food INSIDE these muffins. Fruit, oats, yogurt, egg whites! Sign me up! I love breakfast, don't you?
Morning People Muffins
1 ½ cups old-fashioned oats
1 cup all-purpose flour
½ cup brown sugar
1 tsp. baking powder
½ tsp. baking soda
½ tsp. ground cinnamon
8 ounces Greek yogurt
2 mashed bananas
2 egg whites
2 Tbsp. vegetable oil
Zest of one orange
Click here for baking instructions and food photos that will make these irresistible.
I made these for our very own Stephanie Krier and hubby Bobby (visiting from Boston).  What a treat to have these two over for breakfast!  They gobbled them right up!
Photo by Noelle