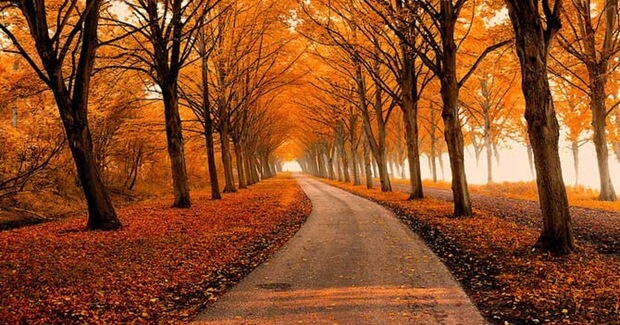 I don't know about you, but I love this time of year. The leaves changing colors, the crisp, cool air, the festivities and holiday gatherings. There's a refreshing sensation I feel when I walk outside on a fall day, and take in my changing surroundings. Something stirs in my soul too. An excitement for what's ahead. A desire for positive changes and new goals. A new year, with new opportunities.
While having those exciting thoughts and feelings, I've also come to the realization that not all of us feel that way. Some people can' t wait for the year to be over. All they can think about is what's next. They yearn for change and a chance to get away from the year they just had. They want to move on and start over.
While going through a weekly women's Bible study at my church recently, I learned a valuable lesson. One I think others could use reminding of as well. Although there is nothing wrong with looking forward to a fresh start, building new memories or   experiencing new things, we can't lose sight of where we just were. Our past is part of us, and our experiences are what mold us into who we are.
The past is where our testimony started, and our present is where we can show what we've made of ourselves until now. Christ wants to meet us where we are today, but He never left us where we were back then. He's been walking beside us, and I, for one, am grateful for where I've come from, what I've learned, who I've met AND where I'm going. It's all part of growing and becoming who we are. This isn't to say I haven't experienced deep loss, heartache or pain that I'd prefer to have gone without. This means DESPITE experiencing those things, I've grown from those experiences and they are part of me. I don't want to forget about them, because they're part of my testimony. Those unfortunate circumstances have increased my faith, and made me even more grateful for the blessings in life.
Whether it was losing my first child to a miscarriage at eleven weeks, or losing my dad when I was only twenty-six and had just had his first grandchild, I am now stronger because of those experiences. There are others I can mention, but you don't need to know each example I can give you, as I'm sure you have your own unfortunate experiences to grow from. I mention those things to let you know they were some of the absolute lowest times of my life. By far the most heart wrenching, trying, exhausting and almost unbearable circumstances I've ever gone through. And yet, I survived. I pulled my strength from the only source I felt I had left, and thankfully, I still believed Christ was my firm foundation and the only One that could help me come out of those trials with my head still lifted high.
Let me encourage you to not forget. If you had a terrible year, or a rough experience, or a long trial you never thought you'd escape from, remember there is hope. But the things you went through are building blocks. God helped in establishing the foundation of who you are. Don't try to start over and rebuild from scratch. Learn to build from where you left off.
You'll not only be a stronger person because of it, but you'll also be more equipped to encourage others who have come from similar places you've been. Enjoy the changes coming in the new year, and when you look back, don't try to forget; try to embrace all you've been through, and move forward with fresh eyes and a wonder for what you get to experience next.