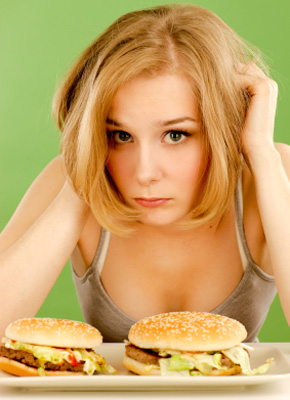 This is National Eating Disorders Awareness Week. In solidarity with the 0.5-10% of the female population who struggle with some form of eating disorder (according to the Academy for Eating Disorders), I'm going to reflect upon my own experience with anorexia. (Here's a complete description of anorexia from the Mayo Clinic, for those who might not be familiar with it).
Last year I revealed in my personal blog that I was anorexic for three years post-college. The only people previously aware of this were my parents and my husband, so it felt like a pretty big revelation. Interestingly, it received almost no response: no surprise, outrage, or sorrow. That's not for lack of people who care about me; I'm blessed with amazing friends and family. I know it can be hard to know how to respond to an eating disorder ("Uh, sorry to hear you didn't eat for a few years. Want some pie?"). But I also wonder whether admitting to an eating disorder is no longer shocking.
I fear that eating disorders have become mainstream, acceptable, even fashionable. We take for granted that many girls go through a starving or purging stage, like that's a normal part of puberty. Emaciated photos of female celebrities are routinely splashed across supermarket tabloids, which shriek "Dangerously Thin!" with sadistic glee; after she's regained a few pounds the celebrity in question may admit to "taking things too far," and everyone moves on.
But eating disorders, which have serious short- and long-term health effects — including death — should be shocking. If they're becoming socially acceptable due to their prevalence and our culture's perverse notions of beauty, that is sad and dangerous.
One of the pithy sayings about eating disorders is: "It's not about the food." That's true; the roots of eating disorders are self-hatred, control, perfectionism, anger, and a host of other messy things.
In my case, multiple factors converged immediately following my college graduation, creating the perfect environment for anorexia to flourish:
– My college mistakes ripped apart my fragile "good girl" self, revealing my imperfection for the first time. Everything looked great on graduation day: I had nice friends, devoted parents, high grades, and a post-college job. But – story of my life – that was just the outward appearance. In reality, I was — to quote a line from Sylvia Plath's poem "Daddy" —  "stuck…together with glue."
-The job waiting for me was a teaching internship in Greenwich, Connecticut. I knew nobody in Greenwich. My college friends were headed to major cities; I was heading to the wealthiest suburb in the country. I had almost no support. By day, I taught the children of the rich and famous; at night, I attended graduate school for a Master's degree in education. Not a lot of time for healthy eating. And in addition to being the wealthiest suburb in the country, Greenwich is probably one of the most anorexic suburbs in the country. It's filled with the stick-thin trophy wives of wealthy hedge fund managers, who have seemingly endless time and money to work out, shop, and be groomed. Anorexia can be culturally contagious; in Greenwich, "normal" meant being emaciated — and most people want to look "normal." (I write this with sympathy, as someone who ended up marrying a former hedge fund employee whom I met in Greenwich).
-Starbuck's Coffee was at its height of popularity, and I found that if I drank a huge skim latte for breakfast, I wouldn't need to eat for the rest of the day.
-The actress Calista Flockhart, at her gauntest, was starring in the hit TV series Ally McBeal.  So I am living proof of the powerful influence of media on body image. To my knowledge, Calista Flockhart has always denied having an eating disorder, but she certainly looked anorexic. I didn't think Calista Flockhart was particularly attractive, but she looked the way that I felt; she looked miserable.
Anorexia was ultimately about wanting my outside to match my inside. I hated that I was flawed and messy. I felt so small, and shrinking my body was a way of showing the world just how small I felt. I also felt deeply lonely and unloved. And the nice thing about anorexia is that it gets you a lot of attention; people are always exclaiming that you've lost SO MUCH weight, and encouraging you to eat more. Even if it's the wrong kind of attention, it works.
So I shrunk. I lived on Starbucks coffee, bread, and bananas. I exercised like a fiend: at the gym, on long walks, in Bikram yoga. This lasted about 18 months. And for those 18 months, it was ALL about the food. Relationships, work, fun — everything in my life took second place to obsessive thoughts about what I would eat, and when, and how to burn it out of my system as quickly as possible. Every part of me was hungry all the time, the physical hunger a constant reminder of my deeper soul hunger.
Now remember: I was teaching at a school. A GIRLS' school. I was teaching elem entary school girls. And THAT still kills me today when I look back: I'll never know what kind of damage I did as an anorexic teacher of young girls. I had a chance to provide those girls with a role model who didn't look like a typical Greenwich woman, and I blew it.
The school's headmistress didn't look like a typical Greenwich woman, and one day, she called me into her office and gently but firmly told me that I had an eating disorder, and that if I didn't actively seek help and make visible progress, they'd have to let me go. I can't remember if she actually used the words "public health risk" to describe me, but that was the gist of it.
That got my attention. Because, despite all the junk going on in my head at the time, I was still a people-pleasing perfectionist. I was still trying to be a good girl. And good girls don't get fired.
So, I did what she told me. I went to an outpatient eating disorder clinic which set me up with a counselor and a nutritionist. I did what they told me. Gradually, my body got better. My soul limped behind for a while, but I stayed healthy enough to keep my job, graduate with my Master's degree, and land a teaching job in New York City where I had more friends and support. It was at this point that I met my husband, and re-met God, and they both helped me discover that there was a me who didn't have to be perfect in order to deserve grace and love.
It happened in fits and starts, but a few years later I looked around and realized that my eating disorder was gone, replaced by a healthy body and soul (still very imperfect, mind you, but healthy enough).
I no longer pay attention my body's weight fluctuations. I don't own a scale. I've learned to enjoy food because it tastes good. I've learned to love meals for what they signify: times to gather and give thanks and nourish our bodies. I've learned to value exercise as a way of caring for myself long-term, regardless of whether it results in weight loss. And I'm so grateful for my body, which has borne four daughters.
That's right: Call it fate, or karma, or providence, but I ended up with four daughters.
So now is my chance to atone for being an anorexic elementary school teacher. While I can't control what my daughters will do in the future, I am their first female role model. I can show them how to love and care for their bodies, how to be balanced when it comes to eating and exercise. Most importantly, I can try to help them grow into women who aren't crushed by their imperfections, who have a spiritual core to steady them when life gets lonely and scary, and who don't need to starve for love and attention.
Let's not accept that eating disorders are part of normal female development. Let's remain shocked by them. And please, let's discuss them openly with our young women. They are hungry, and it's not about the food.