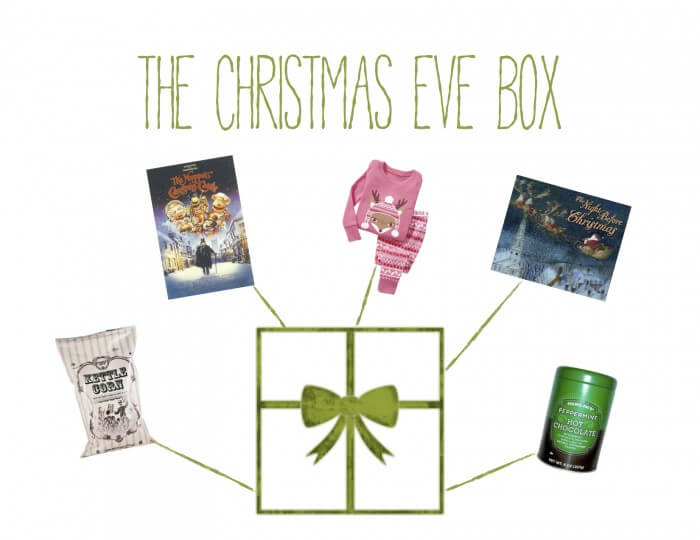 For the past few years my family has adopted a new tradition we call The Christmas Eve Box. This is really fun because I grew up getting together with all my extended family on Christmas Eve and now that I'm married and living out of town, our Christmas Eves at home can get a little quiet and lonely. My husband and I like it because it provides a fun, quality time centered experience for our family, and the kids like it because they get to open a gift on Christmas Eve! Here's what we include:
A Christmas Movie: We get a different one every year so that we can add to our Christmas movie collection. Last year, we did A Muppets Christmas Carol.
New Pajamas: All the kids get a new set of pajamas, and it's fun to keep them in the Christmas theme so that when they wake up the next morning and open presents, it makes for really cute pictures. I usually order these online on Cyber 

Monday

 so I get a good deal.
Yummy Snacks: We don't do a lot of sugar or junk food at our house, but for Christmas we make an exception! In our box, we always include kettle corn, candy canes, and another festive treat of some sort to snack on while we cuddle up and watch our movie.
Hot Chocolate: This tradition is like the holy sacraments at our house. Hot chocolate with little marshmallows is a must!
The Night Before Christmas Book: We read the same one every year. I pack it away with our Christmas stuff and then wrap it up in the Christmas box. After we've watched our movie and filled our bellies with treats, we set out cookies and milk for Santa and throw blankets and pillows down in front of the tree to read "the book".
Finding new traditions as we leave the families we grew up with and begin building our own is something that has comforted me being away from family during some holidays. Even better are the traditions you had growing up that you can pass down to your own children. This has been a great one for our family and I hope it may work for some others as well!
(Image above by Adrienne Sandvos)