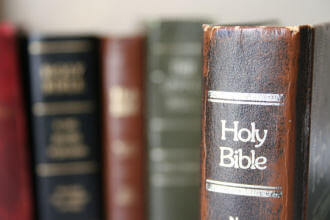 I've been reading the Bible since before I could actually read. Okay, someone was reading it to me or demonstrating it to me on a felt board before I could read, but the point is the Bible and its contents have been a part of my life for as long as I can remember.
I sang songs with scripture in them in Sunday School, church musicals, and VBS's, I memorized scripture in Missionettes, I studied it in depth in my high school Bible classes, studied it more in depth in college classes, have had daily devotions with it for many years, and have gone through studies with small groups and women's ministries. I've read the Bible from front to back, and from back to front several times over. I have a Bible in One Year that I've gone through several times. My dad is a minister and my mom has led countless in-depth studies, resulting in many hours of scriptural conversation at family dinners. You could say I'm fairly familiar with the book, and it's extremely important to me.
I am by no means trying to flaunt how much I've read the Bible. On the contrary. I may have been reading it for years but there's still so much in it that is a mystery to me, and I'm far from a theologian. What's more, I recently found myself in a place with scriptural study where I was just STUCK. I found myself unable to read that same passage another time. I would glaze over the commentaries, finding that I had practically memorized those as well, and it just wasn't "speaking to me" anymore. I was just in a rut. I needed something new.
I'm guessing many of you can identify with this.
I did have some brief moments of fearing that it was because my heart was becoming calloused, or maybe I was just becoming lazy, or any number of self-inflicted things. And some of that could be true . . . I am human. But the bottom line was I just needed a boost – to take an approach that I never have before.
Now, while we all go through seasons of learning different ways, and I am indeed in a unique season in that sense, I found that with a good dose of renewed discipline and a study schedule I've never used before, I could look forward to studying the Word again. For me, it was a couple of very simple things: a schedule for the Bible in a year by GENRE that a friend was using and told me about (although I am not actually doing it in a year, but that's the way it's scheduled), and reading (don't ask me how/why I haven't read this 'til now) How to Read the Bible for All Its Worth by Gordon D. Fee and Douglas Stuart.
First, the reading plan gives you passages to read daily that are broken up into these genres: Gospels, Law, History, Psalms, Poetry, Prophecy, Epistles. You can find the schedule from Into Thy Word here. I like it because often the passages you are scheduled to read, even across genres, are directly correlated. It's opened my eyes in some very new ways to some things, and it's exciting. I also like it because the schedule has already been made for me. All I have to do is look at the day and read the prescribed passages. Simple enough!
Next, How to Read the Bible for All Its Worth.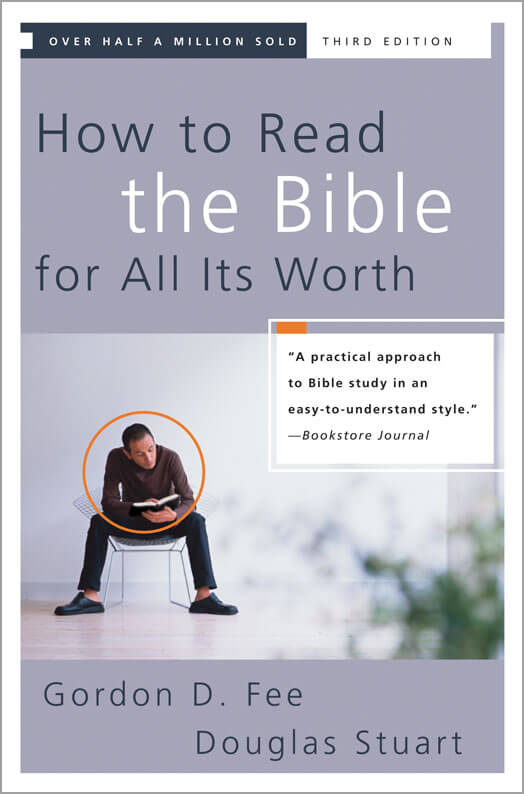 The title is pretty self-explanatory, but I'll still elaborate a touch. It covers things from translation concerns to genres of biblical writing to how the meanings of texts applied in ancient audiences as well as modern audiences. It clears up some common misconceptions that in turn allows you to understand what you're reading more accurately. I like it because the book is super easy to understand, and ultra practical.
There are so many study resources out there to help us study scripture, particularly in first-world countries; we are abundantly blessed. Use them . It's part of "loving the Lord your God with all your mind" (Mark 12:30).
Even if the two options I have mentioned are not for you (or if you've already tread through those), I would encourage you to try something new to bring some freshness to your studies, particularly if you find yourself in a rut. Ask a friend, mentor, or pastor what tools they use in their studies. Muster up that discipline, and just do it. You will never regret it.
"For the word of God is living and active, sharper than any two-edged sword, piercing to the division of soul and of spirit, of joints and of marrow, and discerning the thoughts and intentions of the heart." Hebrews 4:12 (ESV)
P.S. If you've never used My Utmost for His Highest  by Oswald Chambers as a daily devotional tool, pick it up today!