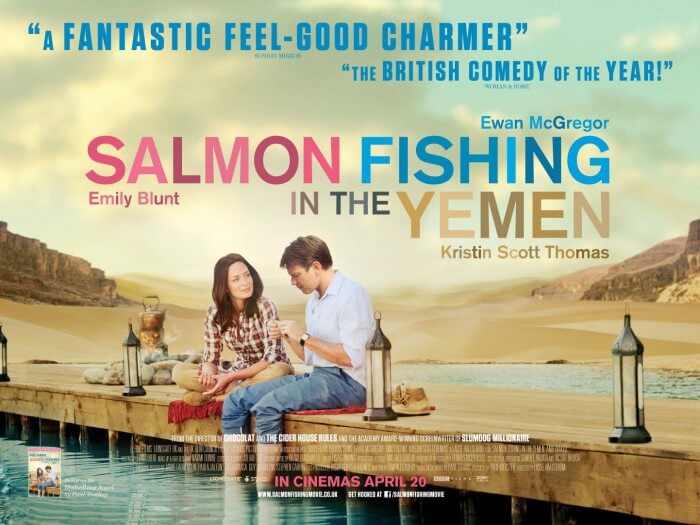 1. Theater-worthy! See it!
2. Definitely rent it.
3. Stream it on Netflix, if you must.
4. Don't even bother.
I recently received tickets to a screening of Salmon Fishing in the Yemen in the Sacramento, CA area. I had seen previews for it for months and thought it looked somewhat interesting, especially considering Emily Blunt and Ewan McGregor were in it, and it was directed by Lasse Hallstrom (Chocolat) and written by Simon Beaufoy (Slumdog Millionaire). But I thought the title of it was absolutely awful (not exactly beckoning me to purchase a $10 ticket), and never saw it actually come out in the theater. Come to find out, it's only been released in select theaters, and I was actually kind of looking forward to going to my little screening.
I took my friend, Nikki, along with me for a little girl time, and, despite the movie-goer in front of us giving off an extremely foul odor throughout the entirety of the screening, we covered our noses in our clothing and stayed in our seats, because it was a great movie. We really couldn't figure out why the film was only a limited release, and even after doing a little digging online, I couldn't see that it was going to be released wide. However, you may have noticed the poster at the top of this article says it's coming out April 20th. I hope that's true! So, even if it doesn't come to a theater near you, I would whole-heartedly recommend renting it.
The gist is there is a sheik (from Yemen) who has a British assistant/representative of sorts (played by Emily Blunt), and he has a vision to introduce the peaceful sport of salmon fishing to the desert sands of his country. They hire a fishery expert (played by Ewan McGregor) to make it happen, sparing no expense. Really, it's a fool's errand, as the fishery expert is convinced, but then the British press secretary gets involved, thinking it's a great photo op for British "good will". And, they make it happen, against great odds. In the midst of all of it is, of course, a love story, and some undertones of faith which I found endearing.
The synopsis may not seem all that thrilling, but the story is told well and acted well. It's a comedic, lovable story with a couple little twists to keep it moving along. Also, the subject matter is quirky, which made it all the more interesting to me.
Now, even though the love story (yes, between Ewan McGregor's and Emily Blunt's characters) is very tame, McGregor's character is actually married – albeit unhappily – to another woman. That was kind of the biggest "bummer" of the whole thing to me. It's clear the marriage is failing and the couple is really drifting apart, but I found myself rooting for this romance between the two main characters and then scratching my head thinking, wait, this guy's still married! Why it's ok in some stories to cheat and in others it's not is beyond me, but of course we know it's never ok.
So, despite that moral glitch, it was an inspiring, funny, charming, clean film that was really enjoyable. I say rent it for sure.