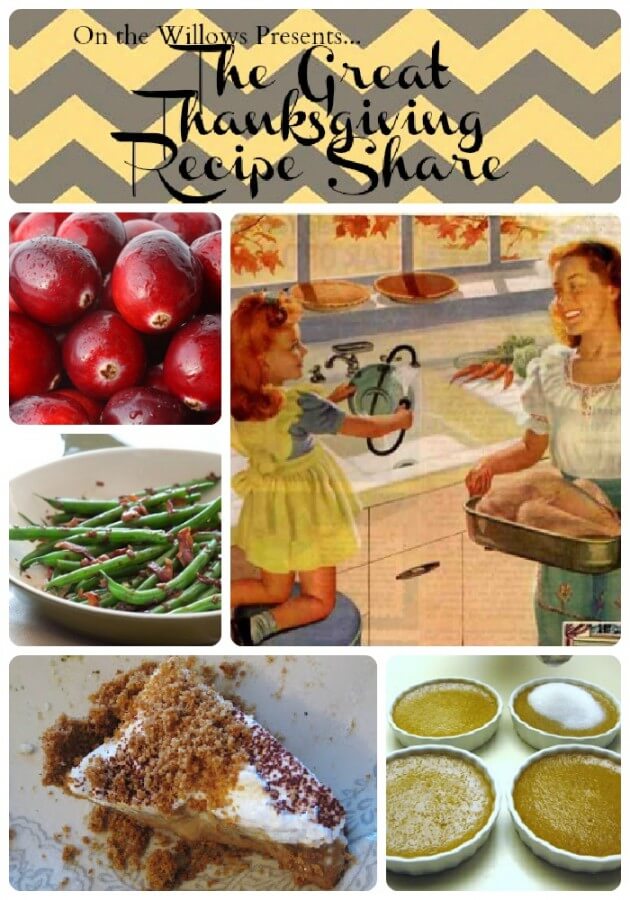 ---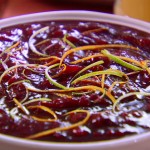 Submitted by: Noelle Ritter
Recipe: Spicy Cranberry Chutney
"Love this take on cranberry sauce.  The jalapeño is surprising and cuts the sweetness a bit. Really fun."
---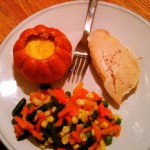 Submitted by: Beth Goad
Recipe: Mini Pumpkin Souffles
Beth blogged about this recipe about 2 years ago. She found this recipe in an ad for Cabot Cheese in the October 2010 issues of Better Homes and Garden! The original recipe made 8 servings, so she quartered it, so the recipe in her blog makes two servings.
---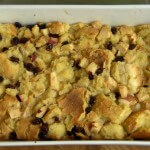 Submitted by: Stephanie Krier
Recipe: Rustic Vanilla Apple Bread Pudding with Caramel Whiskey Sauce
"I've never made this recipe before, so I can't say for sure that it's going to be great. But how can it NOT be great? I absolutely love bread pudding. But then, to add a hard liquor to a caramel sauce is just too brilliant to pass up! I came across this recipe at Food 52 (if you have not yet discovered this gem, check it out) and I can't wait to try it."
---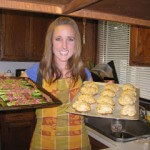 Submitted by: Noelle Ritter
Recipe: Tasty Holiday Rolls – Caramelized Onions and Rosemary
Noelle first blogged about this recipe 2 years ago, on her blog The Joyful Table. "Who doesn't love rosemary? These rolls are simple and are great for a first-timer looking to impress the family!"
---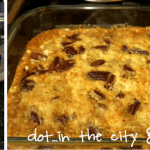 Submitted by: Beth Goad
Recipe: Pumpkin Crisp
"This is a fall favorite for me — just combine the ingredients and bake for about an hour!  I love simple & tasty recipes . . ."
---
Submitted by: Emily Butler
Recipe: Melissa's Yam Recipe
"I love this recipe, and I don't even really like yams. It's named for the person I received it from — my old Bible study leader and mentor from when I was in high school, and I have been using it for Thanksgiving (and Friendsgiving and Canadian Thanksgiving) potlucks ever since.  The real gem of this recipe is the crust — if you love thick, crispy, crumbly crusts, you'll love this recipe.  I've also taken the crust and put it on top of chopped apples tossed with cinnamon sugar, butter, flour (or tapioca), and fresh cranberries, and it makes a delicious cranberry-apple crisp as well."
Instructions:
3 c. yams (4-5) boiled or baked
½ c. sugar
1 t. vanilla
2 eggs
1/3 c. melted butter
Yam Filling: Mix and mash the above and pour into a 9 x 13 casserole dish.
Crumb Topping: Combine all of the following ingredients.
1 c. brown sugar
1 c. coconut flakes
1 c. chopped pecans
1/3 c. melted butter
1/3 c. flour
Sprinkle yam mixture with topping and bake at 350 for 40–45
---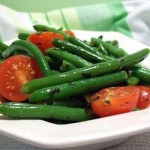 Submitted by: Noelle Ritter
Recipe: Healthy Green Beans
"Not your grandma's casserole, this side dish is refreshing and bright. I have loved this dish over and over!"
---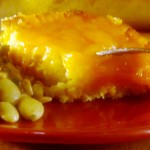 Submitted by: Stephanie Krier
Recipe: Paula Dean's Corn Casserole
"There couldn't be an easier and more unhealthy corn casserole dish!  Two years ago, I made about 4 pans of this for a large church Thanksgiving potluck the Saturday before Thanksgiving. It was a hit . . . however, I never got a chance to taste it until the following year when I made it again. Everyone wanted to know how it was made, so I just said "Paula Dean" and they said, "Oh!!" . . . Yes, it is not healthy (at all), but it's a great, easy side. I prefer to make it without the cheese on top, but I'm sure it's delicious either way!"
---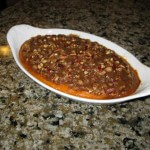 Submitted by: Melissa Lester
Recipe: Ruth's Chris Sweet Potato Casserole
"This is the best sweet potato anything I have ever tasted. I will be making it this year. It can serve as a side, or even as dessert."
---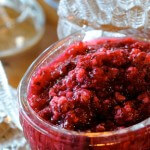 Submitted by: Lyndsay Wilkin
Recipe: Cranberry Salad
"Growing up I never liked the cranberry part of of the traditional Thanksgiving meal, so I usually skipped it, hoping whoever the hostess was (including my mom) wouldn't notice, and gave myself extras of mashed potatoes or sweet potatoes. But about 15 years ago my mom started making this cranberry salad, and now it's one of my favorite parts of the meal. It tastes fresh, crunchy, and has just enough sweet to balance out the bitterness of the cranberries. She usually makes extras just for me to take home. I hope you enjoy it as much as I do!"
Instructions:
1 lb cranberries
1 whole orange peel
2 cups sugar
1 cup chopped apples
1 cup chopped nuts (pecans or walnuts)
1 cup small marshmallows
1 cup chopped celery
Either chop finely or process the cranberries. Grate orange peel or process. Mix together with sugar and let it set overnight.
Add the rest of the ingredients the next morning, mix well, and serve!
---
Noelle's "other than pumpkin pie" dessert ideas: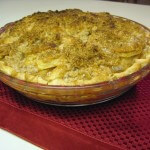 Submitted by: Noelle Ritter
Recipe: Alyce's Apple Pie with Pat's Crumble Top
Noelle blogged about this delicious apple pie recipe a while back. "Classic apple pie with a rich French crumble top.  So good hot, and if possible, leftovers are mouth-watering in the morning!"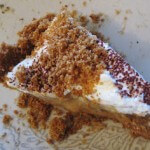 Recipe: Banoffee Pie (WARNING: Banana Explosion!)
"This is such a fun change from traditional pies (pumpkin, apple, etc.). Who knew sweet and condensed milk can turn into caramel? Pair this with a white port or a little brandy."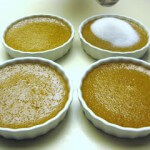 Recipe: Pumpkin Brûlée
"Get fancy, but stay traditional. This dessert is creamier than your typical pumpkin pie filling, plus you get to brûlée the top!  Oooh la la!"
---
Submitted by: Lyndsay Wilkin
Recipe: Sweet Potato Souffle
"Here's a little something healthy and DELCIOUS to mix things up if you're bored with the traditional sweet potatoes/yams baked with marshmallows on top. I would suggest doubling the recipe, because it's THAT good. =)"
Instructions:
2 cups smashed sweet potatoes
2 eggs, whipped
1/2 tsp. salt
1/4 cup honey
1/2 cup walnuts
1 tsp cinnamon (I like to add extra though!)
Pre-heat your oven to 350 degrees. Peel, boil, and mash sweet potatoes. Mix together the rest of the ingredients and pour into a casserole dish or oven-safe dish.
Bake at 350 for 30-35 minutes and enjoy!
---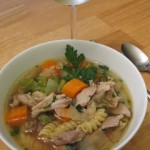 Submitted by: Noelle Ritter
Recipe: Day After Thanksgiving Soup- Turkey Soup with Lemon & Sage
"This soup is so yummy, with the herbs of Thanksgiving (sage and thyme) but brightened with lemon. You might find yourself making an extra turkey just to make more soup to freeze. So comforting!"
---
On the Willows thanks all of the women who contributed to this post . . .
Cheers & Happy Thanksgiving!