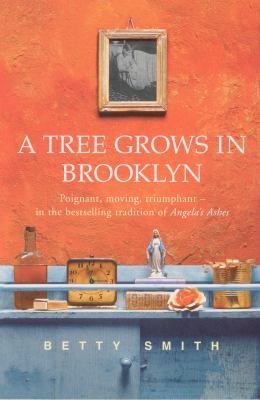 A friend had been suggesting A Tree Grows in Brooklyn for a while, and I was leery. The back cover literally only said that the book is a story about a young girl, Francie, growing up in turn of the century Brooklyn.
That's it?
No apocalypse? No co-dependent vampires? No quest to Middle-earth? What was the story? The ensnaring plotline? What was the dramatic event that leads the reader on a journey to self-actualization? Even though I had hesitations, I decided to give it a try anyway.
When I first started reading I did not understand the writing style. The book is written in third person, but the narrator is almost a character itself, giving inflection and opinion where needed. In the first half, the narrator's voice sounded like the narrator from A Christmas Story in my mind, but as the book went on, I realized that voice actually belonged to Betty Smith, the author. I could picture her writing the book, sitting at her window, and just remembering Brooklyn.
Her Brooklyn.
Although the book is one whole story, she writes in vignettes. I found myself reading a short chapter and putting the book down to think about the world that Betty had just painted. I became lost in Brooklyn, its streets, characters, and Francie's thoughts.
When Katie has her baby and her German, superstitious, loving mother comes over and gives her advice, I catch myself paying attention, and actually learning a thing or two. Living simply was something I could not ignore as I walked through Francie's realization that she was poor and being proud that she could be wasteful of something as simple as her coffee. And I will admit I took away the importance of education. It is interwoven in this book as a love story of learning. Education being the one thing that someone cannot ever truly take from you, and the only way to truly rise above your circumstances.
Honestly, this book needs none of the page turning fodder that readers have come to expect from a book. A Tree Grows in Brooklyn is like a delicious and delicate crème brulee on my binge reading diet of book fast food. I am embarrassed to admit I don't read enough of the books that are worth remembering.
Betty Smith writes a book that reads like a beautiful song. She isn't (in my humble opinion) a great writer; most of her sentences start exactly the same and her vocabulary is very simple and limited. But she is an amazing story teller. She has a unique talent that makes you see and feel and hear and understand the world she is painting. I can taste the sweet buns and coffee with condensed milk. I can hear the song Johnny sings on his way home from work. I can smell the Christmas tree Francie and Neely win. And I can feel the pain when the doctor makes Francie feel small for being poor.  Brooklyn comes alive under her pen and makes you love it as much as my dear friend Betty does.
Even if this book took you a year to read, I would say it was worth it. Even if you only make it through chapter one, I would say you are better off for it. As for me, A Tree Grows in Brooklyn will always have a home in my library and Francie Nolan, a place in my heart.